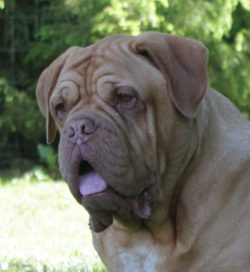 Brandouxs Medusa
12.03.2004 – 06.02.2014
Weight: 55 kilos
Height: 60 cm
HD: A/B – status B
AA: 0/0 – status 0
SAS: 2,35 m/s
Medusa passed away quietly in her sleep one month before her 10th birthday.
Pedigree
Gallery – adult
Gallery – growing up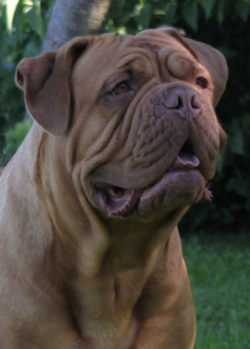 Krondal's Yolene
19.07.2008 – 26.02.2017
Weight: 47 kilos
Height: 57 cm
HD: A/C – status C
AA: 0/0 – status 0
OCD: free
SAS: 2,26 m/s
Show results: Danish champion
Yolene tore a ligament in her knee and needed either surgery or had to be put to sleep. She already had surgery in the other knee at age 5 for the same problem, and it was a very long rehabilitation for her at that time. Because of the long recovery period she went through 3 years earlier, we chose not to put her through surgery again at the age of 8½ years and we made the hard decision of putting her to sleep.