19.03.2012
A quick update just to celebrate our old girl, Brandouxs Medusa, who turned 8 years last week. ;oD She is still doing great and it's a thrill to see how the spring weather is almost turning her into a puppy again – jumping around
or rolling on her back and inviting Yolene and the english bulldog Jelly to play with her. ;o)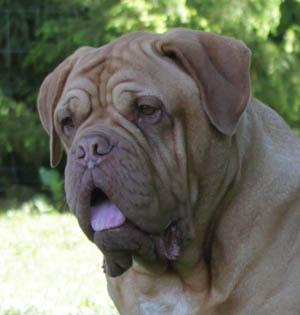 29.12.2011
We are very sorry to announce, that today's scan showed that Yolene unfortunately is not expecting puppies…:o( Therefore, there will not be any puppies in our kennel in the nearest future. For now, we will focus on our own upcoming
addition to the family, as we are expecting another baby girl in the middle of April ;o) If all goes well and baby sister is as easy as her older sister, we are planning on breeding Yolene again in her next heat in June 2012, but for
now we will leave the decision open…
We hope you all had a merry christmas and we are wishing you all a happy new year!! ;o)
06.12.2011
All is still going according to plan…;o) Yolene came into heat late November, and has now been bred to Amazonite Mucho Mambo! ;oD We are therefore expecting puppies in the beginning of February if all goes well, and the puppies should
be ready to leave the house for their new homes just around April 1st (and this is not an April's fool!) ;o) We will do a scan on Yolene to see if she is pregnant when she is about 4 weeks along, so the scan will be done sometime between
Christmas and New Years. For now, there's nothing more to do than keep our fingers crossed…;o)

02.11.2011
There has been some quiet time here on the website, so it's about time for an update ;o) All the dogs are still doing well and have just been enjoying life during the summer without any puppies or shows – however, we are hoping to
change that in the nearest future… In other words, we have decided on a male to breed to Yolene in her upcoming heat. ;o) It's no secret, that we have had our eyes on Amazonite Mucho Mambo for quite a while, as we find his pedigree
very interesting. We were therefore awaiting his HD/AA score with great anticipation and needless to say, we were thrilled to see him come out with the official status HD/A and AA/0! ;o) With these results on hips and elbows, it wasn't
difficult for us to choose Mambo as the male for Yolene, and she will be bred in her next heat, which is expected within the next month. If all goes well, puppies should arrive in February 2012 ;o)
You'll find the full pedigree of the litter in the Puppies section – Planned litters.
Below pictures of Yolene (3 years) and Mambo (19 months):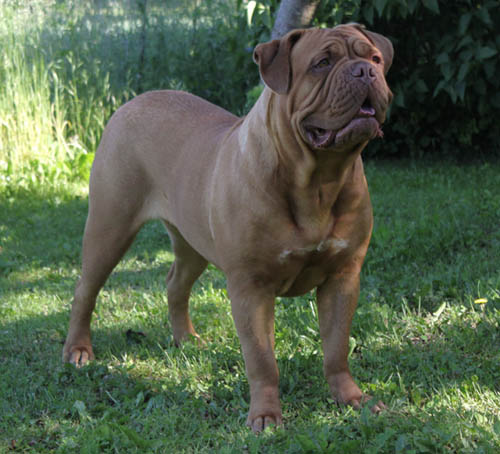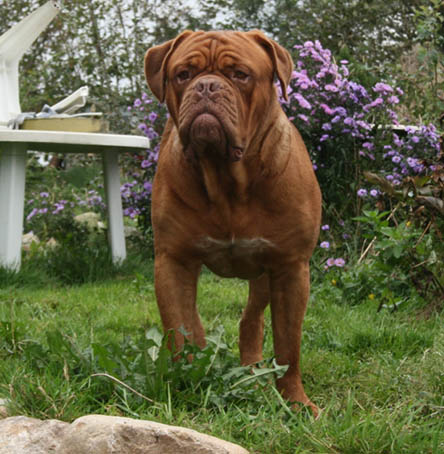 23.06.2011
Today Yolene was scanned – and unfortunately the scan showed, that she is not pregnant :o((( We are off course very sad and disappointed, as we had high hopes for the outcome of this combination.
06.06.2011
Some new pictures have been added of both Medusa and Yolene – go to the Our Dogs section and click on their galleries ;o)
29.05.2011
Yolene started her heat on 15 May and we therefore expected her to be ready for breeding sometime in the beginning of August. But good thing that we did bloodtests on her to check her hormone levels – 'cause already on day 9 the figures
showed, that she would be ready for breeding the next day! Yolene has therefore been bred to Moby de Legeane on 24 May and we are expecting puppies in the end of July! ;o)
A date for a scan has also already been booked to – hopefully – confirm, that we are expecting puppies. Yolene will be scanned on 23 June, and we are crossing our fingers that there will be puppies on the screen. ;o) We will off course
post the news here on the website, as soon as we have the result from the scan.
See all details on the expected litter in the Puppies menu / Planned litters.
16.05.2011
Yolene is in heat! ;oD She will be bred to multichampion Moby de Legeane – see all details on Yolene and Moby in the Puppies menu / Planned litters. You are welcome to contact us, if you are interested in a puppy from this litter.
Puppies are expected late July / early August.

27.04.2011
All is well and there is not much new to report, which is why it has been a while since our last update. We are still waiting for Yolene's heat – according to schedule she will be in heat and be bred to Moby de Legeane sometime in May,
which we are looking very much forward to. ;o)
Our old girl Medusa just turned 7 years in March and is still going strong. ;o) She still wants to be part of the action and is always afraid of missing out on something fun – which is why she can always be found in the back of the car
when it's open – just in case we are going somewhere fun and might forget to bring her!! She has a HUGE personality and puts a smile on our face (as well as grey hair in our heads!) every day and we hope she will be around for many more
years… ;oD
The main news this time is regarding our "house mascot" – our english bulldog Just Braveheart Jelly Bean (aka Jelly). Jelly was not intended to be either a show or breeding dog, her main role is to rule the house along with the two DdB's
Medusa and Yolene, and she does a great job at this… ;o) However, Peter's son Jesper wanted to show her, and she was therefore entered to a show in the Bulldog Club last month. We had no expectations for her achievements in the show-ring,
but it turns out she is more than just the house mascot. She was entered in Open Class, a class of 7 females. She got an Excellent with CK and ended up 3rd best in her class. ;o) So, very well done Jesper and Jelly and who knows, this may
not be her last performance in the show-ring…;o) Below a picture of Jesper and Jelly.
We all enjoyed the wonderful weather during the Easter holidays – Peter and I fixed up the rhodondendron flowerbed with Medusa and our daughter Selma as audience. Medusa clearly tried to steal the picture in the last photo…;o)
/


07.01.2011
A male has been chosen for our next litter and we are very excited – see more here ;o)
03.12.2010
It has been ages since I did an update, but finally I am finding the time to write a few lines of all that has been going on here lately ;o) On October 15 we got the key to our new house in Marbjerg, just outside of Roskilde. It has been our
dream to move out into the country and with this house, our dream has come true. The property is 33.000 m2, and appr. 23.000 m2 is currently let out to a farmer, leaving us with 10.000 m2 to ourselves. The 10.000 m2 are perfectly laid out,
with about half of it around the house as a garden and half of it at the other end of the property (behind the field that the farmer is renting). The part behind the field was used as a dog training field by the previous owner and is therefore
already fenced. ;o) There's a wide grass path between the training field and the house and garden, so we now have a great daily walk with our dogs on our own land, where we don't have to worry about other people or dogs. The house itself is
perfectly situated on a blind street, which means hardly any traffic and is therefore perfect for dogs and small children. However, we only have 2 km to the freeway, so it's very easy getting around and Copenhagen is less than half an hour
away. ;o) With the new house, we have off course been very busy in October and November with all the tasks that come along when you buy a house, and we are not nearly done yet, The livingroom is done and we have started to move in furniture
to this room. The bedroom is soon done too and after that we will start on the other rooms. The house is 300 m2, so it's a bit of a project, but luckily we are not in a hurry…;o) Below are some pictures of our new place taken before the snow
covered everything…;o)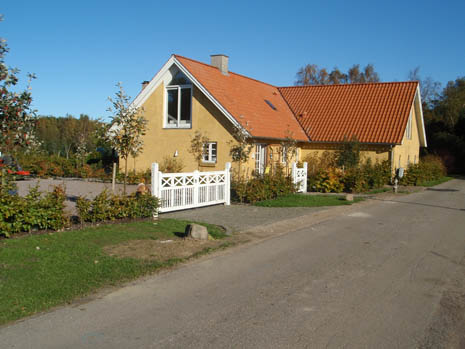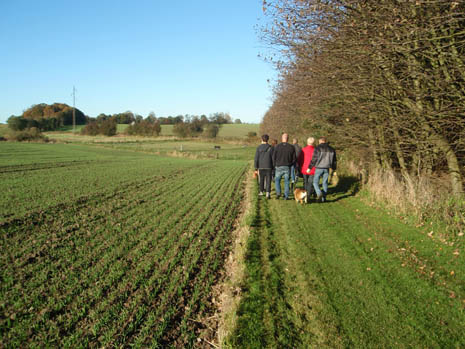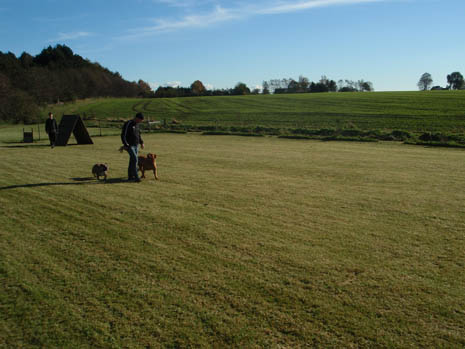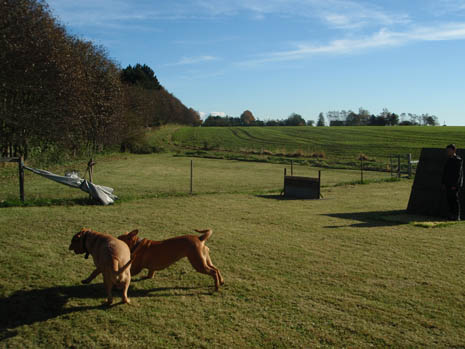 Yolene has just been in heat, but due to our moving it is absolutely not the time for puppies right now, so we won't be breeding her until next year. She will be bred in her next heat which will be in May/June 2011.
As you may have noticed on the frontpage, Peter is now officially co-owner of Kennel Krondal's. ;o) It's great that we are sharing the huge interest for dogs and that we are able to run the kennel together and I am very happy that I have sold
Peter the idea of having Dogue de Bordeaux…;o) Peter has previously been involved in lots of other breeds and have personally bred Amstaff and Basenji, so the Bordeaux is quite a change…;o) You'll find more info on Peter in the About Us
section.
16.08.2010
A lot has happened since the last update and not only regarding the dogs. Thus, the biggest news this time is not related to the dogs – it's the arrival of our baby daugther, Selma. She was born exactly a month ago on July 16th and is
absolutely gorgeous and amazing (being her mother, that might not be an objective oppinion…) ;o) So, even if this is a dog kennel website, I will share a few pictures with you of Selma. ;o)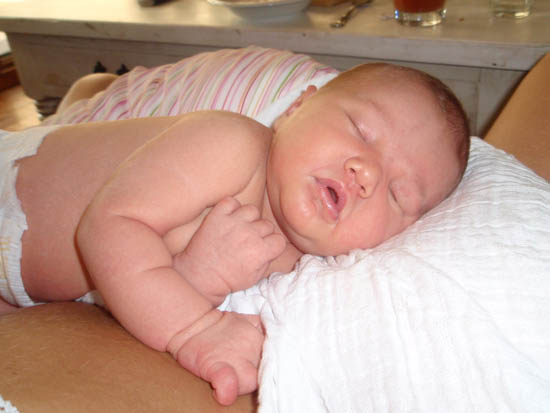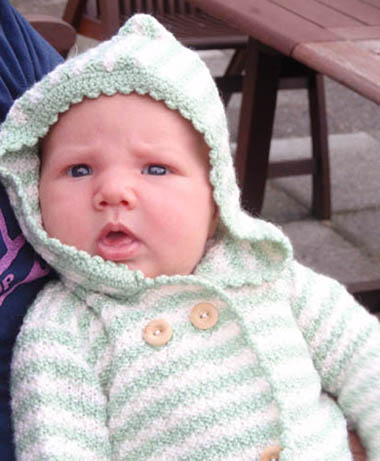 And now, back to the dogs! Once again I have very good news on Yolene. ;o) Yolene has had her official SAS scan done by Jørgen Koch at LIFE and her SAS status has been set at 2,36 m/s. Her mother Medusa has a SAS status of 2,35 m/s so in this
case, the apple doesn't fall far from the tree. ;o) With the SAS result, Yolene is now fully approved for breeding and we plan to breed her in the Spring 2011. We have not decided on the male yet, but it will off course be posted on the site,
when we do.
In the show area, Yolene has also been very succesful. At the Danish Kennel Club International show in Vejen this weekend, Yolene became Best Female and BOS and received her third certificate at 24 months of age – thereby achieving the title
of DANISH CHAMPION. ;oD Needless to say, we are very proud of our girl and her achievements in the show ring.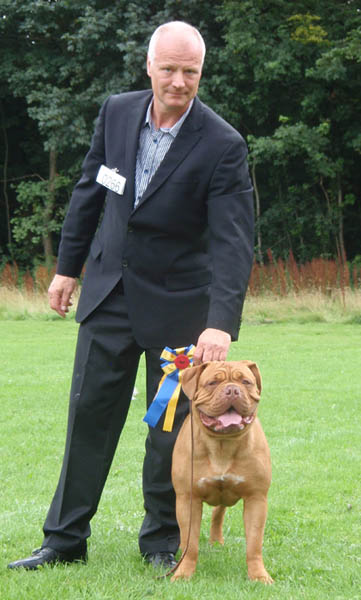 01.07.2010
A lot of news this time! Let's start with my sweet old girl Medusa. Medusa turned 6 years in March and for our breed this unfortunately means, that I consider her a senior dog by now. She is still doing great however, but about a month ago she
suddenly had pus/slime running out of her, and we immediately feared pyometra (:livmoderbetændelse). She was hospitalized immediately (off course on a Sunday) at Karlslunde Veterinary Hospital and prepared for surgery Monday
morning to have her uterus removed. However, Monday morning I got a call from the vet, who had now done an x-ray, and there was no inflammation to be seen in her uterus. We therefore agreed not to do the surgery at that point, as she obviously
had an inflammation elsewhere, since pus had come out of her the day before, and we agreed to treat this problem first with antibiotics. She was put on antibiotics, and within a couple of days she was back in her usual good shape and haven't
had any further problems since, this was about a month ago. Nevertheless, I am absolutely dreading pyometra (:livmoderbetændelse) on an old female, who might not be fit to fight the problem and who is too old to go through surgery. Therefore,
because of this recent episode and combined with the fact, that since her first litter, it has been almost impossible to get Medusa pregnant again, probably due to bacteria in her uterus, we decided to have her spayed (:steriliseret) while
she is still up for it, to avoid any problems later on… Medusa was therefore spayed on Monday, and we won't have to worry about any problems in that area anymore. ;o)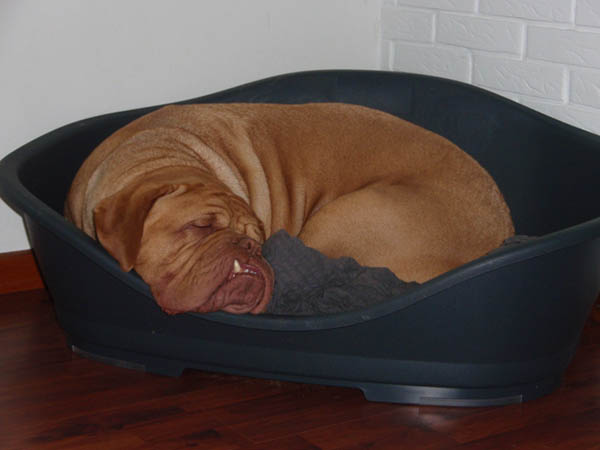 Last weekend was the weekend of the World Dog Show, which this time was held in Herning, Denmark. We off course attended the show as well as the Dogue de Bordeaux Club Circuit show, held on Saturday. We had a great weekend and really enjoyed
seeing a lot of the foreign top show dogs in real life, that we so far only have seen on pictures. The club show on Saturday was such a positive experience and really a very well organized event, so thank you very much to everybody involved
in this – you have done a great job!! The site itself was perfect for the event and luckily it wasn't too hot that particular day, so the weather was perfect for the dogs. Yolene was entered in Intermediate Class and received a Very Good. She
got a very good critique as far as her body and movement goes, but had some remarks on her head, which we are fully aware of, so we were satisfied with the critique. Sunday at the World Dog Show it went much better ;o) She was again entered
in Intermediate Class and she ended up as number 4 out of 9 females with Excellent – needless to say, we were absolutely thrilled with her achievement! ;o)
Better yet though, is the fact that we also got the results on her hip x-rays. She got an A on one hip and a C on the other, so all in all a status C – which means that she is approved for breeding. ;o))) Her elbows and shoulders have already
been x-rayed last year (but she was too young to do the hip x-ray at that time), and these are her results:
HD A/C = status C
AA 0/0 = status 0
OCD = free
She will have a final SAS heart scan done within too long, which is off course also needed before we can breed her, but we already have indications of the result and are not worried about that. ;o)
We will breed Yolene in the Spring 2011. As for now, we have our own baby-project to attend to as well as selling two houses and move into a new place, so it is not exactly the right time for a litter of puppies too…;o) We have not decided
on a male yet, but it will off course be posted on the site, when we do. Below pictures of Yolene from this weekend at the World Dog Show and the Club Circuit Show.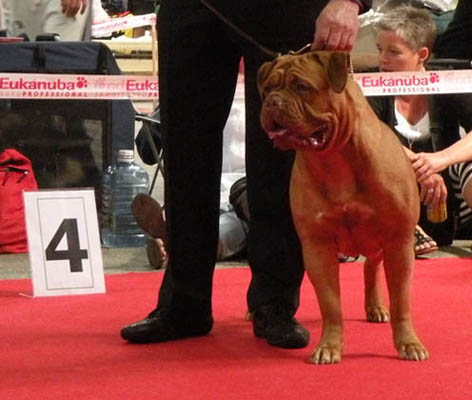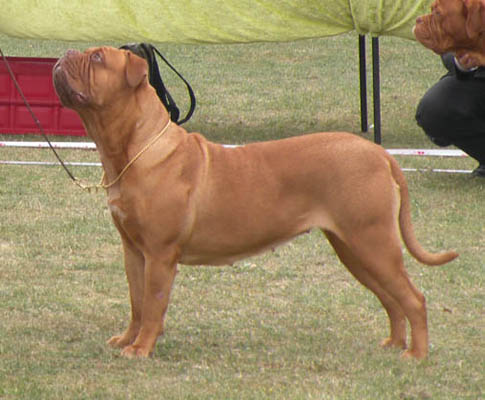 You'll find some new pictures of Yolene in her gallery here. Furthermore, I have received a new picture of Krondal's Zelma, who lives in Sweden and is
now almost 4 years old. You'll find the new picture of Zelma here.
10.06.2010
About time for an update, I know! But there is really not that much to tell regarding the dogs – both Medusa and Yolene are doing good and we have been quite busy with other things for the past months, which is why an update on this site
hasn't been on the top of my list… Our time has been spent on getting both our houses ready for sale, and we are finally done here in Hvidovre ;o) The photographer will come on Sunday and the house should be on the market within next week.
Also, as some of you may know, we are expecting a daughter in about 4 weeks, so we have off course also been preparing for that. My maternity leave started yesterday, so I now have the next 4 weeks to get the last things done before our girl
arrives. ;o)
Today I took the dogs for a walk on the beach. The weather wasn't that good but the positive side-effect was, that we had the beach to ourselves. ;o) Both dogs really love to go to the beach; Yolene because of all the space and she will spend
her time there running non-stop – Medusa because of the smelly seaweed, that she loves to roll in… :o/ Below pictures from the beach today ;o)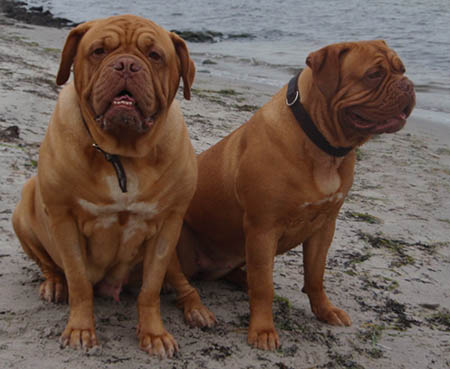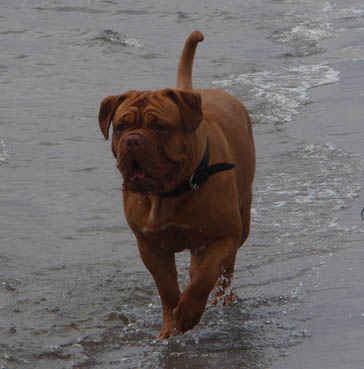 Yolene is now well over her heat so we have finally been able to schedule her for her hip x-ray, which will be done later on this month. These x-rays are always nerve-wrecking, but at the same time I am very excited to see what her hips look
like. She has always been an extremely active dog (we call her a "formula 1 DdB") and I therefore don't anticipate problems with her hips – hopefully the x-rays will confirm that. ;o)
30.03.2010
Yolene is doing great again! ;o) After the huge shock a couple of weeks ago, things are now calm again. She had the drain tube and the last stitches removed yesterday and the healing is going very well. She will need to wear the plastic collar
though a little while longer until the holes have closed completely, but luckily she doesn't seem to mind the collar anymore, so it's not a problem.
Also, the mystery of the whole drama seems to be solved – according to the vet, who inserted the valve in her throath, they did find a rather deep hole just behind one of her tonsils (:mandler). The hole seems to be caused by a stick, so probably
she has been running in the garden with a stick in her mouth and either she has run into something or Jelly or Medusa has grabed the stick in the other end, and the stick has been pushed further into her mouth and into the side of her throath,
creating the hole. Bacteria or tiny pieces from the stick has been left in the bottom of the hole, and as the hole closed again, the bacteria or pieces from the stick has been enclosed in her throath, thereby causing the abscess. At least
we now know what happened, and it all seems like just really bad luck, and not something we could have prevented, as long as the dogs are running in the garden – but I hope she at least learned a lesson and is done running with pointy sticks in
her mouth…;o)
Last but not least – Yolene is finally in heat again. She started today and it's been 8 ½ months since her first heat. I don't know if this necessarily means that it will be another 8 ½ months until her next heat – I think the long cold winter
could have something to do with the delay as well, probably she has just been waiting for the spring…;o)
18.03.2010
What a hectic couple of days… :o/
It all started on Sunday, where the dogs where running in the garden with me. They were all shedding a lot, so I brushed them all and therefore know, that nothing was wrong at this time… About an hour later, I saw that Yolene suddenly had a huge
swelling on the right side of her neck. We examined her, but couldn't see anything on the outside or inside of her mouth. She didn't seem to be affected by it at all and the swelling wasn't sore. Her temperature was normal. We decided to keep an
eye on her for the next hours and see, if the swelling would begin to go down. It didn't, and as the swelling was situated in a critical area and we were concerned about her breathing, we decided to go to the vet Sunday evening. Pictures below of
the swelling as it looked on Sunday.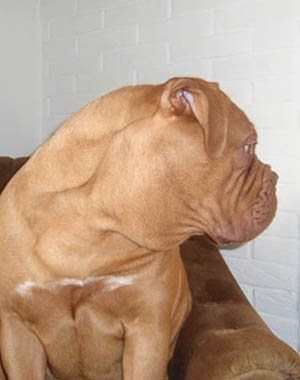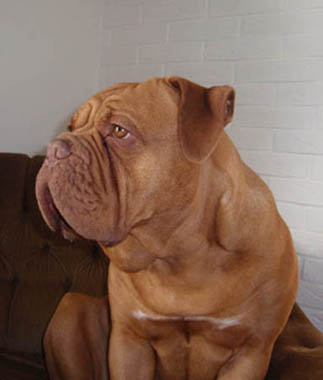 The vet couldn't
find any explanation either but believed it to be an oedema (:ødem, væskeansamling) caused by either a stroke from one of the other dogs while playing or if she had been chewing on a pointy stick or branch that had torn her throath on the inside.
According to him, the swelling was on the outside and didn't affect her breathing. He gave her some diuretic (:vanddrivende) pills and told us to take her to our
own vet, if the swelling didn't go down in a couple of days. It didn't. Tuesday evening it still looked the same, only now I felt that it was slightly affecting her breathing and also she was having difficulties eating Tuesday evening, it seemed
that the passage in her throath had narrowed down. First thing Wednesday morning I called my local vet and he had time to see her at 1 PM – and then things started to happen fast… He took a quick look at her and was quite chocked and told me
right away that he wouldn't treat her but wanted to send me straight on to the specialists at Karlslunde Animal Hospital. A quick phone call later and he had managed to have two vets waiting for me in Karlslunde and off we went. Those of you who
know Yolene also know that she gets stressed in crowded places and it affects her breathing – an animal hospital therefore was far from the optimal place for her to be in this situation…:o/ A female vet was waiting for us at Karlslunde Animal
Hospital and examined her quickly. She did not believe that the swelling was caused by an oedema as it now felt hard. Instead she suggested that it could be an abscess (:byld). Yolene's breathing at this point was getting worse and I was really
starting to worry. The vet also agreed that the situation was severe, and she wanted to take her to the emergency room right away for further examinations. So, at 2 PM I left Yolene at Karlslunde Animal Hospital. 2 hours later a male vet called
me. He had received her at the emergency room and at that point, she had begun to throw up, as she was starting to choke… So it had all been quite dramatic – they put her under a general anaesthetic (:narkose) right away to get a tube in her to
help her breathing. The x-rays confirmed the female vet's suspicion – it was in fact an abscess (:byld). They emptied a whole cup full of pus out of the abscess, put a drainage tube in the abscess and then woke her up again – only to realize that
Yolene couldn't breathe on her own as her throath was so swollen that it was cutting off her respiratory passages… They therefore quickly had to anaesthetize her again and put a tube down her throath to let her breathe. So, the situation at 4
PM was, that she was held under a general anaesthetic and was breathing through a tube and they couldn't wake her up until the swelling had gone down. Two hours later, at 6 PM the male vet called me again. Things had gotten worse, and the tube
they had put in her throath didn't give her the sufficient air and they have had to move on to more dramatic methods… They had now cut a hole in her throath below the swelling directly into the windpipe (:luftrør) and had put in a valve
(:ventil). She was now awake again but her breathing was troubled and she was only getting air through the valve, her throath was still closed due to the swelling. However, putting in the valve in her windpipe helped and when they called me again
3 hours later at 9 PM, she was doing better and the swelling was beginning to go down. However, as they told me, she would be critical until the next morning – blood could run into the valve and clot (:størkne), thereby closing the valve and cutting
off her air supply… I agreed with the hospital, that if there were any changes, especially if her condition got worse, they would call me, not matter what time it was. If everything was okay, I wouldn't hear from them until the next morning.
Needless to say, we didn't get much sleep last night… :o/ Luckily, the phone didn't ring until 8 AM this morning. :o) The night had been good, she had been relaxed and sleeping, the swelling had gone down and she was now breathing through her
mouth. However, the valve was still in her throath and they wanted to monitor her until noon, before taking out the valve and sending her home. Things went well during the morning, I talked to the hospital around 1 PM and picked up Yolene at 2 PM.
:o))) She is now pleasently asleep in her favorite chair again, looking quite miserable though… She has a drainage tube on the right side of her neck, which will have to be there until Monday at least to get rid of the rest of the pus from the
abscess. Furthermore, she has a completely open hole in the middle of the throath and into her windpipe (:luftrør) from where the valve was put in. Apparantly, holes like this are not stitched together but need to close themselves which will
take 2-3 weeks. Worst part of the hole isn't the hole itself though, it's the sound… Air is still running in and out of her windpipe through this hole as well as through her mouth, and it really sounds quite creepy… :o/
For now though, the drama seems to be over ;o) Now Yolene just needs time to heal and we will off course provide her with the necessary TLC to do so…;o) Pictures below from today after picking her up after the surgery. Drainage tube on the
right side of her neck and the open hole into the windpipe in the middle of her throath.
I guess it's needless to say, we won't be at the Blovstrød show this Saturday with Yolene…good luck to the rest of you! ;o)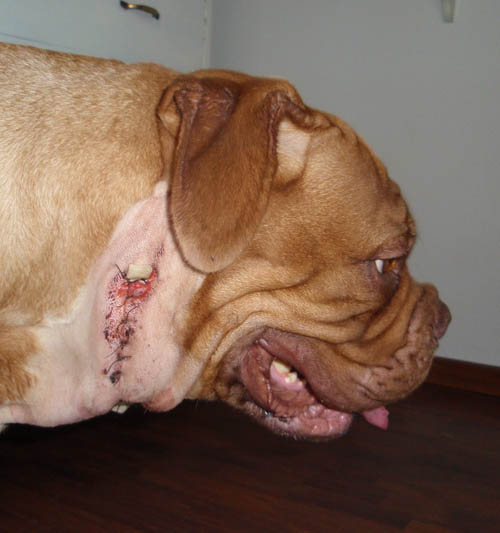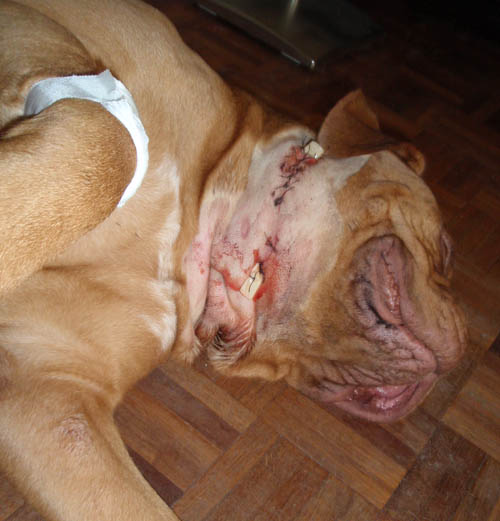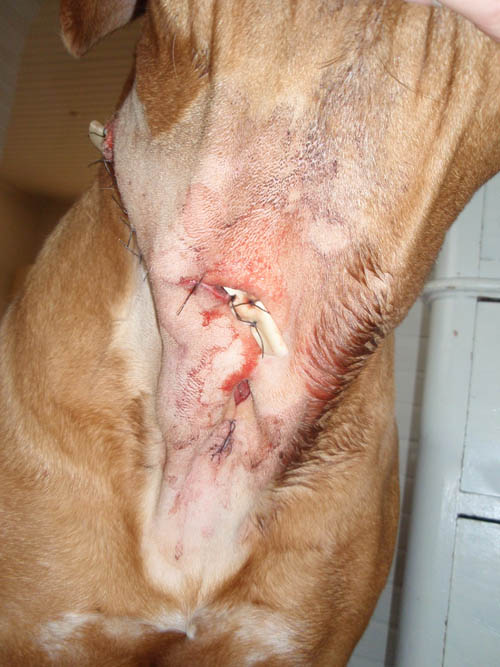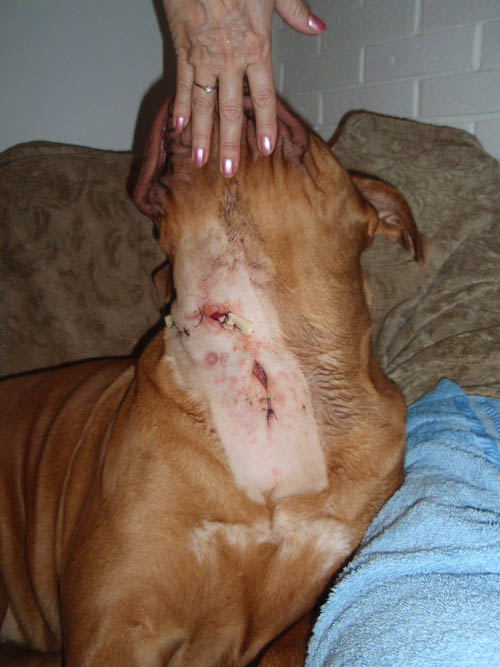 04.03.2010
Another news update on Medusa, and luckily it's only good news. ;o) As I wrote in my last news update, Medusa had a blood test done a month ago, that still showed some slightly high kidney figures, so I have continued the kidney diet and just had
a new blood test done. This time all figures have dropped to the normal level again and there is no sign of any kidney problems. ;oD Furthermore, I have experienced a huge change in her behaviour since I switched her to the kidney diet. Before, she
was starting to act more and more as a senior dog – she slept more than she used to and she wasn't interested in playing with the other dogs or with her toys anymore. After the change in her diet she has completely liven up again! She is way more
alert, she is full of energy again and she now enjoys to play with Yolene and Jelly (Peter's English Bulldog) – and if they don't want to play, she will grab one of her teddybears and toss it around for a while or even jump at us to have some
entertainment! It is absolutely amazing to see this change in her, and because of that I have decided to simply keep her on the kidney diet from now on. I'm feeding her Specific from the vet and on top of feeling better, she also really likes
the food. She has never been a big eater and has always been quite picky with her food, but for the first time she really enjoys her meals and is running ahead, waiting for me to bring the bowl. ;o) So all in all, Medusa is turning 6 years old
in a week and is doing great! ;oD
Yolene as well is doing good, nothing much to report here. I am still waiting for her to go into heat, her first heat started on 11 July 2009, so I was expecting her second heat in the middle of January – but still nothing… So, I quess I just
have to be patient a little while more and hopefully something will happen before too long…;o)
A couple of pictures below of Medusa and the new member of the pack – Jelly the English Bulldog ;oD Jelly is getting along extremely well with Medusa and Yolene, especially Yolene and her have become the best of friends and it's just a joy to
see. ;oD Below however, one of the more quiet moments, Medusa and Jelly passed out on the couch…;o)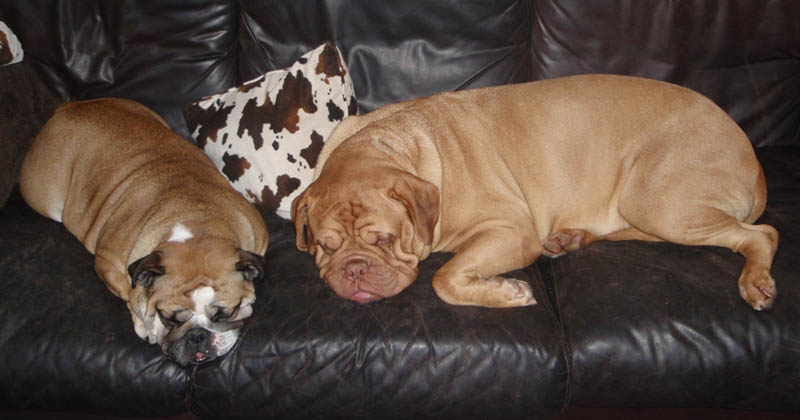 02.02.2010
Today I got the results from Medusa's last blood sample. The kidney figures from the last test had dropped as they should and looked perfectly normal ;o) However, a new figure now seems to be a bit high, that wasn't high on the last sample, so I
will keep her on a kidney diet and do another blood test in about a month. However, the kidney figures were not at a dramatic level and she doesn't seem to be affected at all but is doing good. ;o) Medusa has also been to LIFE for a heart scan
performed by Jørgen Koch as announced in my last update. Medusa's heart scan is part of a new study on the hearts of older DdB's, initiated by the Bordeaux Club Health Committee and LIFE. The heart scan went very well, everything looks perfectly
allright. Jørgen found no irregularities in the heart rhythm and Medusa's SAS result was exactly the same as 3 years ago, Jørgen measured it to 2,3 – 2,35 m/s. ;o) So all in all, Medusa is still going strong and will be 6 years in March. ;o)
Peter and I took Yolene for a show weekend in Middelfart and Fredericia this weekend. On Saturday was the first Danish Club Match arranged by the Danish Dogue de Bordeaux Club. I think it's safe to say that the event was a huge success and the
Danish Bordeaux Club had done a very good job – congratulations on a job well done to the organizers and we are already looking forward to next year with hopefully even more participants ;oD. However, even if the show itself was a huge success,
the success was slightly more limited for Yolene, who got a Very Good this day. The critic from judge Jürgen Sauer read as follows (translated from German as well as I can): "18 month old female, (korrekt aufgebaut?), breed typical head, undershot,
lower jaw must be more bend/pronounced, correct eyes and ears, medium strong body, (korrekt Körperlinie?), very good front, good topline, correct hind angulation, correct tail, excellent movement, first class temper".
On Sunday was the Kennel Club Show in Fredericia and this day was a huge success for Yolene! The judge was not very generous, only 3 out of 13 dogs received an Excellent. Luckily, Yolene was one of them and she ended up as Best Female and BOS, receiving
CAC and CACIB! ;oD The critic from judge Natalja Nekrosiene read as follows: "18 month, medium size, very feminin, good substance for age, feminin head of correct proportion, well placed and shaped eyes, strong neck, good topline, deep chest, correct
angulation, moves very well". So all in all, we were very content with the results from the weekend. ;o)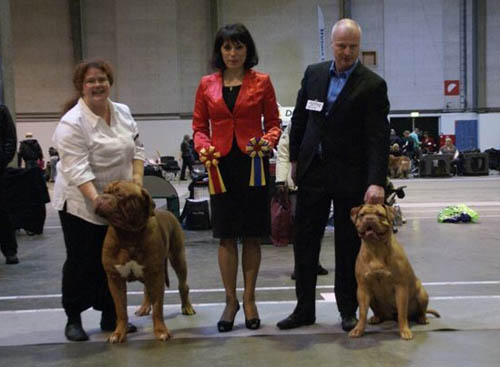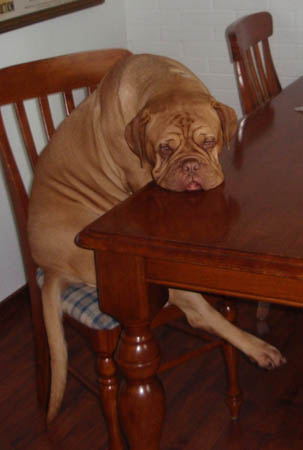 26.01.2010
Time for an update, I know…;o) To follow up on my last update, Yolene has recovered nicely after her surgery in December. She was almost instantly pain-free after the arthroscopy, she had Metacam afterwards but only for 2 weeks, full dosis for a
week and then half dosis for another week, and that was it. We have walked her on a leash for 5-6 weeks after the surgery, but she is now running loose again, and when I say running I mean running!!! Yolene has an energy level that I have never
before seen in a DdB, which has made it quite difficult to keep her still after the surgery. I have tried to stimulate her, using her nose instead of her legs, and have had her searching large areas for treats to tire her, but never the less she has
been crawling on the walls from time to time…:o/ So it's nice to be able to let her loose again, and she is certainly enjoying it! ;o) We will be attending the Bordeaux Club Match on Saturday and the Kennel Club show in Fredericia on Sunday, and
we're looking very much forward to showing her again – this time without a limp…;o) Yolene just turned 18 months on January 19th and is now old enough to have her hips x-rayed, but I am anticipating her second heat any day, and am therefore waiting
to do the x-rays until her heat is over.
Medusa had a blood sample taken last month and it turned out her kidney figures were raised above the normal level. She has therefore been fed a kidney diet for the past month and she will have a new blood sample taken tomorrow, that will hopefully
show a drop in the kidney figures again. Also, I have been in touch with the Health Committee of the Bordeaux Club regarding the new heart study on older DdB's (mentioned in the last issue of "Bordeauxnyt"). Medusa will be 6 years old in March and I
guess is therefore regarded a senior in this breed – sadly enough… :o( She has been accepted to participate in the heart study of old DdB's, and will have a heart-scan performed by Jørgen Koch at LIFE on Thursday.
08.12.2009
Today Yolene has been to the vet Ken Lindeblad at Faxe Dyrehospital. She has been limping quite badly on her left front leg for about two weeks, which was the reason that she got a KIP at the Bordeaux Club X-mas show the last weekend in November. So
last Tuesday I took her to see Ken to hear his opinion. He believed that the pain came from her left elbow and therefore suggested that we did an arthroscopy (:kikkertundersøgelse) to take a closer look at the elbow. She was x-rayed on both elbows and
shoulders in August and got her official status from the Kennel Club – 0 on her elbows and OCD free on her shoulders, but nevertheless she was limping and I therefore agreed with Ken to do the arthroscopy. The arthroscopy was performed today and it
showed a chink/crack on the end of one of the bones in the elbow. Nothing had broken off and therefore nothing was floating around in the elbow, which means that the elbow joint itself had not been damaged. All of the cartilage in the joint is intact
and no floating parts have been damaging any bone, so according to Ken the joint itself looks good, the only problem was the chink/crack on the end of the bone. He therefore simply removed the bone/cartilage with the chink in it to avoid any further
problems for Yolene. I off course asked his opinion as to using Yolene for breeding and according to Ken, the condition she had in her elbow is the mildest form of elbow condition. I was therefore very pleased to hear, that he believes she can still be
a good candidate for breeding if she has other qualities to offer the breed. I am therefore now looking very much forward to seeing the status on her hips and her heart, when she is old enough to do these examinations. However, as the condition wasn't
more severe, she should be doing good again shortly without any further pain or problems, and that's off course the best part of it all…;o)
In other words, I hope you got a good laugh at the Christmas picture on the frontpage – I sure did, putting it up on the website! ;oD This was the shot, where Medusa looked absolutely most annoyed with me and has NO clue as to why I think the dog elf
hat, picked up at Harrods last year, is so funny! But it is, it really is…;oD
09.11.2009
This weekend was the International Kennel Club double show in Herning, and Yolene was entered both days. It went VERY WELL!!! She is only 16 months old and was entered in the Junior Class. Saturday there were 4 Junior females, 3 intermediate
females and 2 Open Class females and Yolene beat them all and became Best Female and BOS and received her first Certificate!! :oD Sunday she also received an Excellent but wasn't placed in the best female competition – but it was perfectly
allright, and we are very content with her achievements on the first day. ;o) We will be at the Bordeaux Club X-mas show later on this month, that will be the last show this year and we are looking forward to that. In other words, Medusa is
also doing very well, she seems to be very content with her status as "retired" from both the showrings and the litterbox, see the picture below…;o)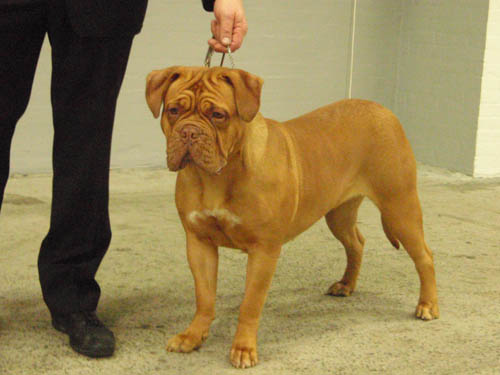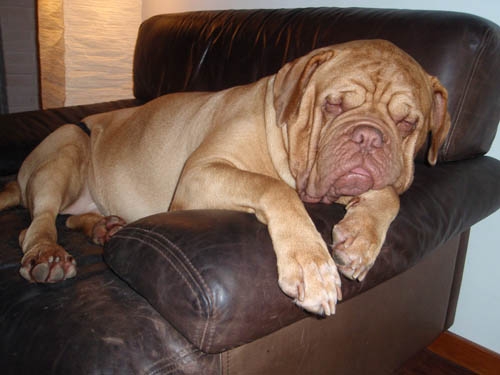 20.09.2009
Another show update! This weekend was the International Kennel Club double show in Brøndby with the title Copenhagen Winner 2009 on Sunday. Yolene was entered both days and did very well. Saturday she got a Very Good, but considering the fact
that only one female got an Excellent (Krondal's Zavannah), I am certainly satisfied with her Very Good. Sunday went better and Yolene got an Excellent and became 3rd best female. ;oD Thank you so much Peter Bihlet for showing her so well both
days! ;o) It also went exceptionally well for Krondal's Zavannah, who became Best Female and BOS both days and thereby achieved the title Copenhagen Winner 2009. ;oD Below pictures of Yolene and Zavannah. More pictures have been added to Yolene's
gallery here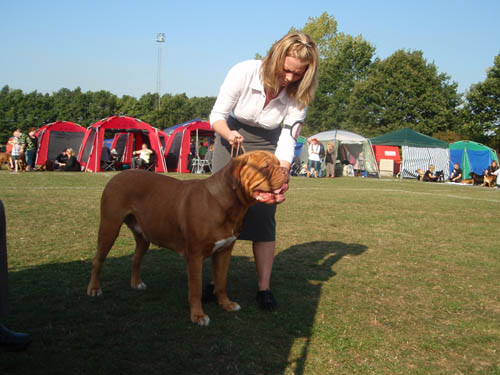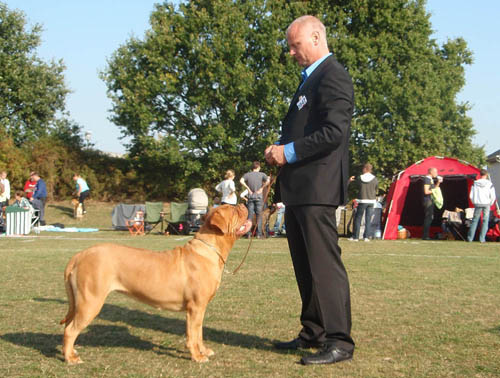 16.08.2009
Today was the International Kennel Club show at Hillerød – and what a day for our Kennel! Krondal's Zhakira only needed one more certificate to become Danish Champion, and she got it today! ;oD Zhakira is now the second champion to come out of
the Z-litter, and we are off course proud of her achievement. Below is a picture from the show today. Zhakira will be bred late August to Bon Vitalis Keeper – if you are interested in a puppy from this combination, you are welcome to contact owner
Susanne on +45 22 71 07 05.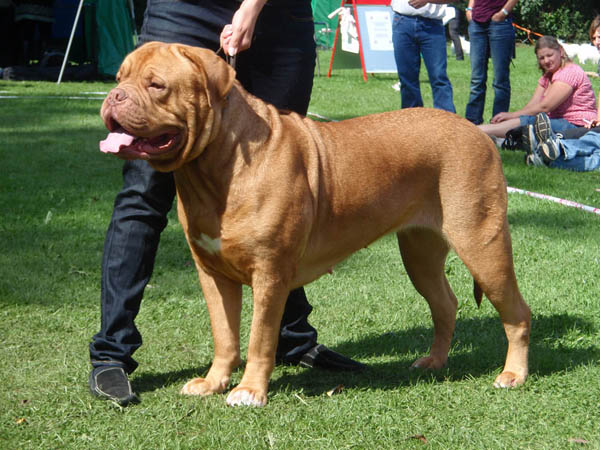 09.08.2009
Yolene has turned 1 year old and has had her elbows and shoulders x-rayed for her official AD and OCD status. Her results came in yesterday – AD/0 and OCD/free!!! I am off course overly happy and excited about the results and am now impatiently
waiting for her to turn 18 months so that she can have her hips x-rayed too. ;o)
Turns out I will be able to make it to Hillerød anyway, so allthough I haven't entered Yolene in the show I will come by to watch the other bordeauxs – see you there! ;o)
29.07.2009
Today's update is mainly some pictures from our trip to the beach yesterday. I really enjoyed taking the girls for a swim at Bagsværd Sø with Trine Larsen (see update from July 23rd), so I have decided to take them to the beach a couple of times a week
as long as the weather is still warm enough. I have the luxury of living only 5 minutes away from the beach, so I really think I should take advantage of that. Therefore, we went for a swim last night – and by "we" I mean all 3 of us, as the only way
I can get them into the water is if I go in myself! However, as soon as I started walking out into the water both girls came along without any objections and without a leash, so luckily it was very easy to get them swimming. ;o) Hopefully with time
they will grow to really enjoy the swimming and I can stay on the beach…;o) Turns out that Medusa is actually quite the swimmer! …who would have thought…;o) She lays very well in the water, her butt is actually above the water when she
swims…I guess fat floats, right! ;oD She has a very effective and calm movement in the water, it doesn't look hard but she moves fast! Yolene on the other hand needs more practice, I think…;o) She tends to panic a bit and is almost standing up in
the water, trying not to get her head under – which really makes it much more difficult and harder to swim and will end up getting her head wet too! But she improved during the swim lesson last night and I'm sure will get better as we continue to
practice…;o) Enjoy the pictures! ;o)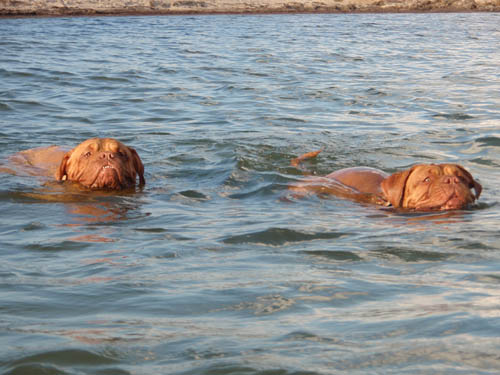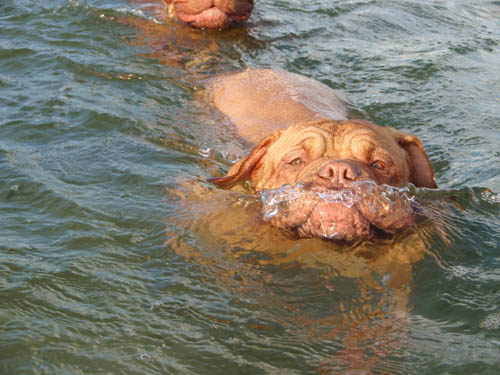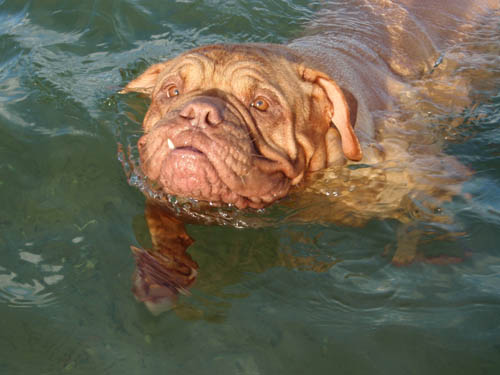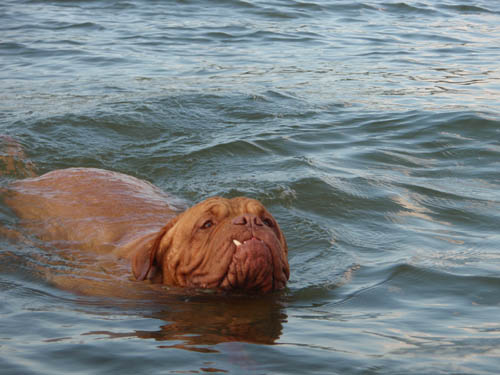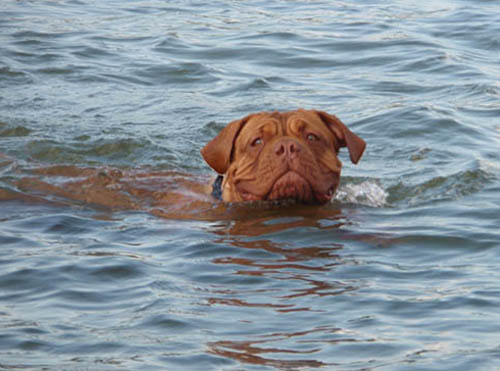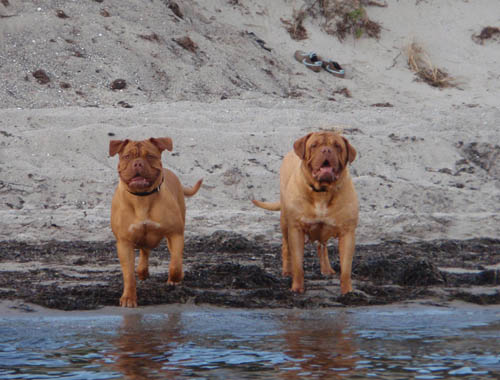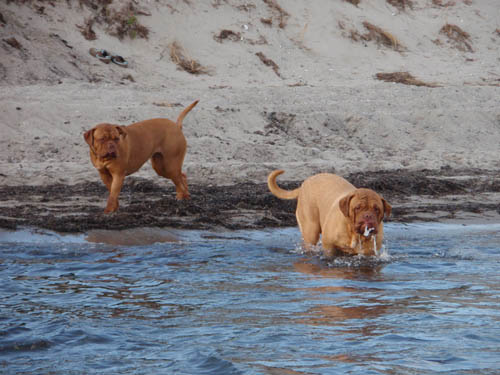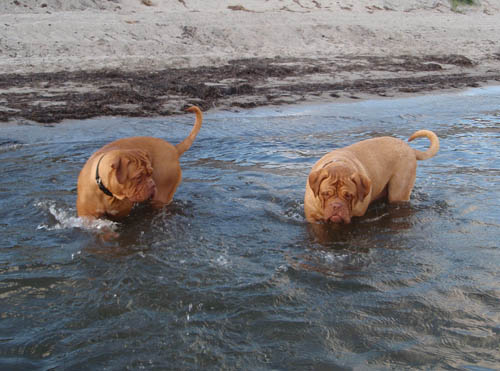 23.07.2009
My 3 weeks of vacation are over and work has started again. I have spent my vacation this year painting the house, which Medusa and Yolene have enjoyed to the fullest as they have had company during the day. ;o) The house really had the most awful
colour(!), something that I have now been living with for more than 5 years, but other projects indoor seemed to be more important. However, now was the time, and it has certainly improved the place!! ;oD Not completely done yet, but the pictures below
before and after will give you a pretty good idea of the major change…;o)

Also, Yolene turned 1 year old on Sunday and she is in her first heat. Medusa is therefore taking every opportunity she gets to remind Yolene, who is the alpha female in this house…! But it has really been very painless, there have been no problems
at all between the dogs, probably because Medusa is as dominant as she is and Yolene is certainly not(!), so there is no arguing who is the boss…;o)
In between all the painting I managed to get a day in of quality dog time. I met up with Trine Larsen (Kennel Zokana) at Bagsværd Sø, she brought Zavannah and Jazzzmin and I brought Medusa and Yolene. Trine's dogs are both very keen on swimming, so I
thought that would be a good way to "lure" mine into the water as well. However, as curious as they were, Yolene in particular, they didn't feel like taking the last step and actually go for a swim – so Trine and I helped them…;oD At Bagsværd Sø there
is a very long bathing jetty (:badebro), which made it possible to put a leash on one dog at the time and walk alongside of them while they were swimming. So, I held the leash and called to make them move forward and into the water and Trine helped out
with a little push – and as soon as they were in the water it went just fine…;o) Funny thing was, that Zavannah and Jazzzmin jumped in voluntarily and swam along to keep my girls company! ;o)

As I probably won't be able to make it to the Hillerød show, I haven't entered Yolene – but I'm counting on bringing her to Brøndby both days in September, so looking forward to meeting you all again by then! ;o)
10.06.2009
Last week was the annual "Walk & Barbecue" at the dog training club in Albertslund, that I have been attending with Yolene for the past six months (and also with Medusa in her younger days). I had asked Trine Larsen (Kennel Zokana) to join me, and we had a
great time, just relaxing with our dogs and enjoying ourselves. ;o))) All in all about 80 people with a total of 50 dogs went for a very nice walk for about an hour, all dogs running loose amongst each other without any trouble at all – I must admit, that
I always enjoy beeing able to have my dogs running loose with other dogs, especially Yolene, who tends to be quite insecure and uncomfortable as soon as she is on a leash – but once the leash is off, she is running with the other dogs without any signs of
nervousness.
After the walk, we all gathered for a barbecue and with a whole line-up of different activities for the dogs. Trine had brought Zavannah and I guess she hasn't completely forgotten the first 8 weeks of her life, the reunion was surely very happy and
overwhelming, as can be seen on the pictures below…;o)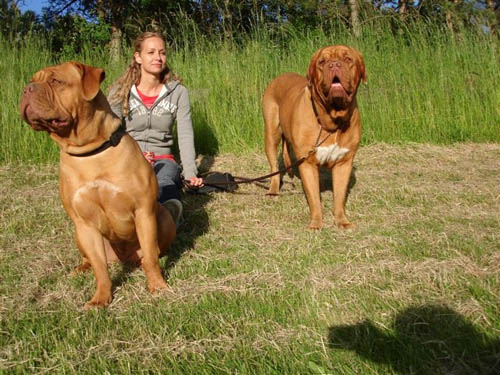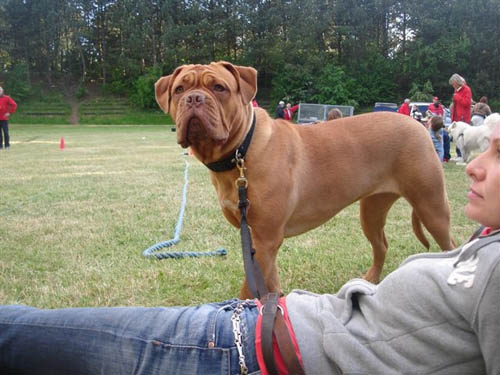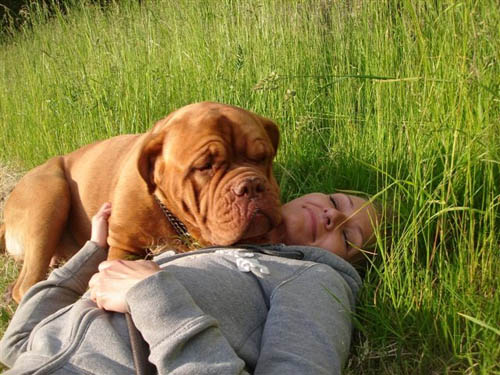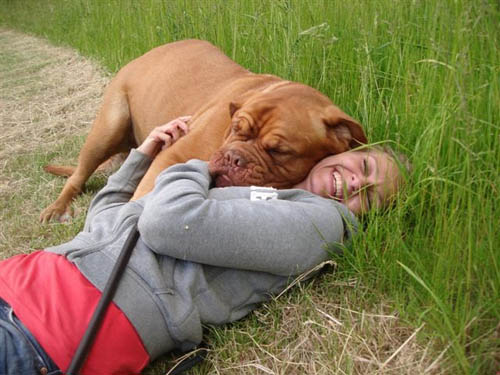 22.05.2009
Yesterday I attended the yearly "Bakke-skue" with Yolene, which is a non-official show held at the amusement park Bakken. It went very well and Yolene got a very good critique with a cross in the field "Excellent" ;o) The critique read as
follows "10 mdr., velproportioneret, god substans, meget velskåret og udtryksfuldt hoved, kvadratisk skalle, god længde på næsepartiet, velplacerede øjne, prima bid, stærk hals, korrekt overlinie, gode benstammer og poter, smuk pels og farve, velvinklet.
Kraftfulde, effektive bevægelser. Dejligt temperament." – and translated into English: "10 months, well-proportioned, good substance, very well-shaped and expressive head, square skull, good length of muzzle, wellplaced eyes, excellent bite, strong neck,
correct topline, good bone structure and feet, beautiful coat and colour, well angulated. Powerfull, efficient movement. Lovely temper." Needless to say, I was very pleased with Yolene's debut in the ring. ;o)))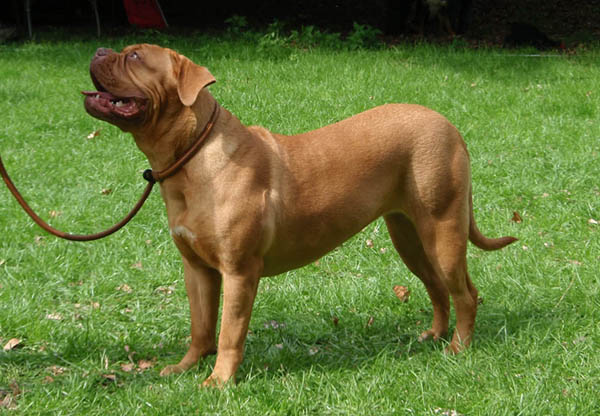 05.04.2009
Skøn hanhvalp søger nyt hjem!
5 måneder gammel hanhvalp, Zokana's Nikozzz, søger et nyt hjem. Nikozzz er søn af dansk champion Krondal's Zavannah (HD/C og AA/0) og multichampion Bozzz Padrino vom Nuthetal (HD/A og AA/0). Du kan læse meget mere om Nikozzz på
Kennel Zokana's hjemmeside , hvor du også finder kontaktoplysninger til opdrætter Trine Larsen.

20.03.2009
A new picture of Yolene has been added in her gallery in the Our Dogs section, 8 months old yesterday. ;o)
14.03.2009
It's been a while since the last update, so even though there is not much new to tell, I thought I'd just put up a few pictures from today, where Medusa and Yolene each got a whole goat spine! This kept them occupied for a couple of hours outside while I
got a chance to clean the house – a true win-win situation…;o) Yolene will be 8 months next week.


07.02.2009
Since Medusa sadly turned out not to be pregnant, things are quiet around here – Medusa and Yolene are both doing good, and Yolene is growing nicely and without any problems. She is growing more harmonically than Medusa did, and her body looks better than her
mother's at the same age. Her ears are still funny looking sometimes(!), and her lower jaw still needs to develop and be more visible, but all in all I am very content with her. Today I met up with my good friend Trine Larsen from Kennel Zokana, and we took all
the dogs for a walk – on the picture below we managed to get 5 dogs in the picture at the same time, not an easy task! Yolene especially enjoyed the trip – this is the first time she meets another Dogue de Bordeaux aside of her mother Medusa, and it was funny to
see how she instantly "recognized" Nala and particularly Zavannah as something familiar and well-known…;o)
24.01.2009
A new picture of Yolene has been added in her gallery in the Our Dogs section.
14.01.2009
As announced in my previous update, Medusa was bred to Bon Vitalis Keeper in the middle of December. I took her for a scan on Monday, to verify if she is pregnant or not – unfortunately, she is not… :o( I am off course very sad, that the breeding didn't turn
out as hoped, especially since there are no visible signs of anything beeing wrong with her. She was scanned and examined by Birgitte Schjøtt, who is a specialist in this field, and she has no explanation to the difficulties of getting her pregnant.
So for now, the focus will be on Yolene, which I am sure she won't complain about! ;o) I have started training with her, and she is such an easy dog to work with – especially compared to her mother, who was more or less impossible!! Yolene is very attentive and
eager to do the right thing, so it's really a pleasure beeing on the training field with her. ;o)
A new picture has been added of Yolene, 5 months old.
30.11.2008
Yesterday was the Danish Dogue de Bordeaux Club's annual Christmas show. Krondal's Zhakira was entered and did very well! ;o) She won the Open Class Females and then went on to compete for Best Female, which she also won. As if this wasn't enough, she went all
the way and ended up as Best Of Breed! As there have only been 2 club shows this year, and no female was awarded Best Female at the first show, Zhakira automatically became Female Club Winner 2008 as well. Congratulations Susanne and Kim – good thing you came in a
big car, with all the prizes you were dragging home… ;o) Zhakira achieved her second Cert at the show – one more to go and she is Danish Champion. ;o)
You can see new pictures of Zhakira taken after the show – go to the Puppies menu, choose the Z-litter button and click on Zhakira ;o)
Medusa is in heat! She started on Friday and will be bred to Bon Vitalis Keeper in the middle of December, hoping for some brothers and sisters to Yolene. Puppies are expected in the middle of February 2009. ;o)
And speaking of Yolene – a couple of new pictures have been added to her gallery in the Our Dogs section. She is undershot on all teeth except for one!! But she is changing her teeth at the moment, so I'm hoping they will look right afterwards… ;o)
09.11.2008
The news update today is not regarding my own dogs, instead I have several great news on Krondal's Zavannah. ;o)
First one is, yesterday Zavannah received the title Danish Kennel Club Breed Winner 2008 – congratulations Trine and thank you for your big effort in the showrings to achieve this! ;o)
Today Zavannah gave birth to her first litter. ;o) She had 7 puppies all in all – 6 boys and 1 girl. Father to the puppies is Bozzz Padrino vom Nuthetal. You can see pictures and videos along with much more info on the litter on Trine's website –
www.kennel-zokana.dk and if you are interested in a puppy from the litter, you'll find Trine's contact info on the site as well – there are still male puppies available. ;o)
02.11.2008
Not much new, except for some new pictures! You'll find a couple of new pictures of Yolene and also a new photo of Medusa in the Our Dogs section. Also, I have received two new recent pictures of Krondal's Zhivago that you'll find in the Puppies
section / Z-litter button.
Yolene has been signed up for puppy-school and we'll be starting in two weeks. The reason for this is her lack of socialising with other puppies or other dogs growing up (aside of her mum), and unfortunately this means that she doesn't feel comfortable around
other dogs – something that I am working hard on changing! We are taking walks every day in the park to meet other dogs, and luckily her behaviour is much better now than just a week ago. So I have complete confidence in Yolene becoming a well-functioning dog when
she grows up – but also know, that it's my responsibility to ensure that…
Compared to her mother, I think Yolene is going to be much easier to work with when it comes to the actual training. Medusa has always been very stubborn and has unfortunately never had a big
desire to please her owner(!!) – Yolene on the other hand, is a big lover of treats (and food in general!), and it's therefore much easier to get her attention! She seems to enjoy learning stuff, it only took very few times before she had learned to bark on comand,
which is something the dogs are tought to get in and out of the garden – as I DO NOT want my doors scratched by dog claws! So they have to bark, when they want the door to be opened, and she picked up on that very quickly. So all in all, I think it's going to be a
positive experience to train with Yolene – she will probably quite enjoy the training itself and on top of that, she will learn how to behave around other dogs – so I'm looking forward to getting started in two weeks! ;o)
29.10.2008
Today's update is an update I have been looking much forward to – the final two HD/AA results from the Z-litter have come in – and what results!!! Zhivago and Zira were the last two dogs to be x-rayed, below you'll see their results:
Zhivago

HD A/A = status A

AA 0/0 = status 0
Zira

HD B/B = status B

AA 0/0 = status 0
Now, that all HD and AA results from the Z-litter are in, I must admit that I am very satisfied (and proud) of the health-status of the litter as a whole. 7 out of 9 dogs have been found suitable for breeding according to the Danish restrictions – to me that is a very
good result, considering the serious problems we have in our breed with hips and elbows.
Number 8 on the list is Zoya, but even though she has a D-hip on one side, she has never had any problems with it and before x-raying her, her owner was sure that her hips were absolutely perfect based on her movements and how active she is.
Why the last dog on the list – Zarah aka Diva – turned out so completely different than the rest of the litter, and was tragically put to sleep at an early age, one can only guess about…
Below is the total list of all the Z-litter hip and elbow results:
Zhivago

HD A/A = status A

AA 0/0 = status 0
Ziljah

HD A/A = status A

AA 0/1 = status 1
Zhakira

HD A/B = status B

AA 0/0 = status 0
Zira

HD B/B = status B

AA 0/0 = status 0
Zamba

HD B/B = status B

AA 1/1 = status 1
Zavannah

HD C/C = status C

AA 0/0 = status 0
Zelma

HD C/C = status C

AA 0/0 = status 0
Zoya

HD C/D = status D

AA 0/0 = status 0
Zarah

HD E/C = status E

AA not x-rayed
Due to the amazing HD and AA result of Zhivago, Zhivago's owners will be SAS-scanning him in order for him to be available for breeding. I will off course post his final SAS-result here in the News-section as soon as I have it. Furthermore, new pictures of Zhivago are
on the way, so keep an eye out here on the website, if you are curious to see what Zhivago looks like these days…;o)
Yolene is now 14 weeks old and has entered the not-so-cute-but-rather-ugly age!! ;o) Her ears are BIG and she is having trouble getting the right one to sit in the correct angle…! :o/ On the positive side though – she is now undershot! She is only undershot with about
2 mm, but this will increase over the next months, so I no longer have to worry about that… ;o)
However, as her ears have not yet decided completely on which way to turn(!) and as she has just become undershot within the last week or so, I have not entered her
in the Bordeaux Club Christmas show in November, the deadline was this Saturday – she will not be entering the showrings until 2009. ;o)
I have not been able to take any good pictures of Yolene outside during the last weeks – so you will have to do with an indoor photo for now, take a look in Yolene's gallery in the Our Dogs section…and you will probably agree with me, that she looked a lot cuter a
month ago.. ;o)
06.10.2008
Yolene visited the vet today for an ID-chip and her first vaccination, and everything went just fine. ;o) She loved everybody at the vet and I took her for a short walk afterwards, to get her used to cars, busses, bikes and noise in general, but luckily nothing really
spooks her… ;o) She is still not undershot, but so far I'm totally calm and firmly believe it will change when she changes her teeth – we'll see… A new picture of Yolene has been added to her gallery in the Our Dogs section.
I spent more or less the entire Sunday preparing food for the dogs, this time it was "fruit & vegetable day". It is the season for apples and pears, so I had managed to get a hold of a big pile of both, and I do prefer to get fruit from a private garden instead of buying
it at the supermarket, as the fresh-from-the-garden fruit has not been treated with all kinds of chemicals… Aside of the privately collected apples and pears, I added banana, carrot, broccoli, cauliflower (:blomkål), eggs and yoghurt and I ended up with 18 kilos of
fruit/vegetable mix to go in the freezer – and a nasty blister on my hand from all the chopping! Picture below of everything before going into the blender ;o)
21.09.2008
Today Krondal's Zavannah received her last Cert and is hereby DANISH CHAMPION! Congratulations to Trine Larsen at Kennel Zokana with the achievement. ;o) Zavannah has been bred to Bozzz Padrino vom Nuthetal, puppies are expected mid November. If you are interested in a
puppy from this litter, please contact Trine Larsen – contact info can be found on www.kennel-zokana.dk.
16.09.2008
Yolene is now 8½ weeks old, still doing just great. She weighed 7,4 kilos on her 8-week day, which is exactly the same as her mother Medusa at the same age, so so far she looks to become a medium size female.
A new picture of Yolene has been added to her gallery in the Our Dogs section.
Today I took both dogs for a SAS heart-scan at LIFE (formerly KVL), lector Jørgen Koch performed the scans. As per September 1st we have a new restriction on the Dogue de Bordeaux in Denmark, meaning that all dogs must be SAS-scanned. As I am planning on
breeding Medusa again in November, I need to have her status officially registered with the Danish Kennel Club, so even though she has already been scanned twice in her life, I needed to do another scan, as I had no sufficient documentation on her previous scans. Medusa
has now been officially scanned to 2,35 m/s which is a bit lower than her previous scans of 2,4 and 2,5 – but in the same level, so it's good to know that her heart status hasn't changed from 8 months and until today, where she is 4½ years old. ;o) I brought Yolene along
for the scan, as I thought it would be very interesting to know her SAS-status at this point, especially as I also had the Z-litter scanned at the same age, so I had some statistic material to compare it to. Yolene's heart looks really good and her scan was actually very
much alike those of the Z-litter at the same age. Yolene was measured to a velocity between 1,6 and 1,7 m/s, this will probably increase a bit until she is grown up, and I am predicting a velocity anywhere between 2,0 and 2,5 when she is grown up, which is perfectly
acceptable. ;o)
07.09.2008
Another week has passed and Yolene is now 7 weeks old. The big project of this week was filling up the swimmingpool in the garden. I have been the (un)fortunate owner of a swimmingpool since I bought this house 4½ years ago, and I now finally got around to filling it up.
I have wanted to do so for quite some time, but it's quite a challenge getting 30 m3 sand and gravel into a garden with no easy access – however, it has now been done and I no longer have to worry about a dog accidently falling into the pool… Next spring I will lay
out a nice big terrace on the area where the pool used to be, and I'm sure I will get a lot more pleasure out of the terrace than the pool, so I'm really looking forward to that. ;o)
A new picture from the pool project has been added to Yolene's gallery in the Our Dogs section – enjoy!
31.08.2008
Everything is still going just great with Yolene. She is now 6 weeks old, not undershot yet, but with her mum being undershot to the max (and then some!), that really doesn't worry me – on the contrary, I think it's a good thing that she is yet not undershot, perhaps she
will actually be moderately undershot and able to close her mouth when she grows up!! ;o))) A couple of new pictures of Yolene have been added to her gallery in the Our Dogs section.
26.08.2008
Yolene turned 5 weeks on Saturday and is still just a wonderful puppy – curious and adventurous, playful and happy! ;o) A new picture of her has been added to her gallery in the Our Dogs section.
On Sunday I was out fishing from a boat with some friends and managed to bring home 1 codfish (:torsk) and 27 herrings (:sild). The codfish will probably end up as human dinner at some point, whereas the herrings are for the dogs…or rather the dog, as Medusa completely
refuses to eat fish!! She has never tried it before, so I probably can't expect her to suddenly enjoy fish at the age of 4½, and she sure found it rather disgusting and smelly!! Yolene however found the fish very yummy indeed!! Pictures below are showing a very happy Yolene
devour a herring in no time! ;o)



18.08.2008
Another week went by and Yolene turned 4 weeks old on Saturday. She is really starting to explore the world by now and has a great temper – curious and interested in everything that's going on around her. I have to say, that I am enjoying more and more the benefits of only
having one puppy – when I am home, Yolene spends all her time with Medusa and me in the living-room, in the kitchen, in the garden – whereever we are, she is! The outcome of this is, that by now at the age of 4 weeks, she feels completely comfortable and safe in the entire
house and furthermore, she is already starting to get the idea, that the toilet is outside in the garden…! This would off course have been completely impossible to teach a whole litter, but when all the attention is on one puppy, it certainly makes things easier… ;o)
She has tasted a lot of different BARF variants by now, although only in very small doses – chicken, deer, goat liver, tripe, reindeer…and she loves it all! However, so far the purpose has only been to give her the taste of it, she is still completely on Medusa's milk diet
and will remain so for as long as possible – but probably in a week's time, I will have to start giving her more solid food, so I will be picking up some turkey necks during the week for that purpose… ;o)
New pictures have been added to Yolene's gallery – you'll find them in the Our Dogs section.
09.08.2008
Today Yolene is 3 weeks old, the weight reaches 2,8 kilos. She has had a very exciting and exhausting couple of days, as I am now beginning to introduce her to the world outside of the whelping box. She therefore spent last night in the livingroom on a blanket, listening to
the TV and people talking and walking about – and she just slept through most of it, I believe it was a bit of a mouthful, mentally! ;o)
2 very nice portraits of her have been added to her gallery – go to the Our Dogs section and click on Yolene's gallery to see them.
Today she has been outside in the garden for 2 short trips – and Medusa was absolutely ecstatic!! Finally someone to play with outside, YIHAA!!!
As you can see from the pictures, Medusa seemed to enjoy the garden trip slightly more than Yolene, who still thinks the world outside is a bit scary… ;o)


Also, I am starting now to introduce her to the BARF diet – off course, she can not actually chew her way through a chicken neck yet, but she sure seems to know, that this is FOOD!! The moment I gave her the chicken neck, she started to chew on it – so I don't think feeding her
the BARF diet will be a problem! ;o)

03.08.2008
Time for the weekly update! Yolene turned 2 weeks yesterday, weighing a good 2,1 kilos. She has now opened her eyes completely and is ready to take a look at the world around her – see her new picture in her gallery (go to the Our Dogs section).
27.07.2008
Yolene now has her own gallery – go to Our Dogs and click Yolene's "gallery – growing up" if you want to see her pictures. Two new pictures from yesterday, when she turned a week, have been added to her gallery – and she still looks absolutely gorgeous! ;o)
25.07.2008
Little Y is still doing very good and is gaining weight at the speed of light! She went above 1100 grams today, only 6 days old, which is not bad – but off course, she has all the food to herself. ;o)
I have finally decided on a name!! I have been considering a LARGE number of different names, and when I gave up on finding a good Y-name, I was very close to naming her You're The One + NAME, in which case I could give her any name I wanted and it didn't have to start with a
Y…
But honestly, I am not a fan of long "constructed" names for a bordeaux, I think it fits better for those smaller furry and fluffy breeds… ;o) So, I went back to thinking hard on Y-names and came up with the name Yolene – pronounced as in the Dolly Parton hit-song "Jolene".
Yes I know, my spelling might be slightly "creative" here, but it works for me! ;o)
22.07.2008
Some more pictures of Little Y, enjoy… ;o)
Also, the website has been updated. Our Dogs has been updated with our new female addition, and in the Puppies section the Y-litter now has it's own page and the Planned Litters page has been updated as well…


20.07.2008
Finally the waiting is over, and the Y-litter has arrived – well, to call it a litter may be an exaggeration, as there is only one puppy… ;o) However, it is a FEMALE and I am therefore overly excited and thrilled, as I wanted to keep a female myself from this litter – and
here she is! ;o) Therefore, there will sadly enough not be any puppies for sale this time, however I am planning to breed Medusa again in her next heat, as she has already had a 2-year break between her first litter and this one, and this one is not exactly going to be hard
on her… ;o)
The birth took place yesterday July 19th and the little girl arrived at 15:10 in the afternoon. After that, Medusa continued to be restless and she was gasping continously for the next two hours. At that point I was starting to get concerned, as she had not started pushing
again, and due to her behaviour I was sure there were more puppies in there. However, after dragging her around and around in the garden and giving her Calcium-Sandoz to re-start the contractions and still getting no signs of the next puppy to arrive, I took her to the vet and had
her scanned, and the vet could then inform me, that the little girl was an only child. ;o) So, this summer will not be quite as expected with a whole litter running around, instead it will just be a nice and easy summer with my two girls – and that's really not so bad either! ;o)
I have not yet decided on her name, it is not as if I have a long list of great names starting with Y (?!), so I am still thinking and trying to be creative… ;o)
The picture below is taken just 15 minutes after she was born, she weighed 630 gram coming out and she off course decided to come with her feet first! She has a really nice wide and short muzzle and only a little white on her chest, all 4 paws are dark.
Needless to say, I am VERY content with my new little female so far! ;o)
16.07.2008
Congratulations Z-litter with the 2 years today!!! ;o))) Exactly 2 years ago Medusa gave birth to the Z-litter and within a few days the next litter will follow… Nothing to report so far – Medusa is doing great and I don't think anything will happen for the next day or two,
she will probably wait until the weekend before she lets out the little ones… ;o)
14.07.2008
The arrival of the Y-litter is getting close – Medusa should deliver her puppies by the end of the week. As you can see from today's pictures, not much has happened in the past week. However, everything looks good and I have started taking her temperature today. Also, all the
blankets and towels have been washed and the whelping box is clean and ready – so now we are just waiting for the puppies… ;o))))

07.07.2008
Today's update – new pictures of the pregnant Medusa ;o) As you can see, she has not grown a lot since the pictures from last week, and I am predicting somewhere between 3 and 6 puppies – luckily she has only about 10 more days to go, so the curiosity will soon be over… ;o)
The pictures below are from Saturday and today.



02.07.2008
This weekend was the Danish Kennel Club's International show in Brøndby, and 3 of the Z-litter females were entered; Zavannah, Zhakira and Zamba. It went very well and I was happy that I made it there in time to see them in the ring…(despite an awful headache due to a birthday
party the night before…). All 3 dogs received Excellent and got very good critics, so I was proud of them all. Zavannah won the class, Zhakira came in second and Zamba was number three. Picture below is of all three girls – from left to right is Zhakira, Zavannah (or at least
half of her!) and to the right Zamba. Congratulations Susanne, Trine and Merete with the great results! ;o)
Also I have some very good news regarding Medusa – she is expecting puppies!!! ;o)))))))
Pictures below are taken during the past week, and I believe it is safe to say by now, that she can no longer hide her circumstances… ;o) Apart from the growing belly, she has been secreting transparent slime/mucus yesterday and the day before – also very clear signs of pregnancy,
so I am now seriously starting to look forward to the coming litter. She is however not nearly as big at this point as she was with the Z-litter, where she gave birth to 11 puppies, so I am not expecting a litter of the same size – but I would be thrilled with a lot less than 11
puppies, and am just keeping my fingers crossed that there will be a female for myself to keep…;o)
The puppies are due to arrive somewhere between the 15th and 20th of July, I only have 1½ weeks more left at work before starting my vacation on Friday 11 July, and I will be spending the rest of July at home with
Medusa and the pups. ;o)


20.06.2008
Another great HD/AA result has been announced for the Z-litter!!
Zamba

HD B/B = status B

AA 1/1 = status 1
With only two more dogs having yet to be x-rayed (Zhivago and Zira), I can say at this point that I am very pleased with the overall HD/AA results of the Z-litter. You can see the HD/AA results for each dog in the Puppies menu, then choose the Z-litter button. ;o)
As for the planned litter between Brandouxs Medusa and Bon Vitalis Keeper, it is looking promising…;o) I can not yet be absolutely sure, but so far everything looks right and Medusa's body is starting to change shape, so I do believe she is actually having puppies this time! ;o)
However, I will know a lot more within the next week – so check in again after the weekend for more updates!! ;o)
03.06.2008
Good news continue to tick in on the Z-litter, both in the show ring and regarding HD/AA ;o)
Krondal's Zelma has gotten her official HD/AA status from the Swedish Kennel Club, and the results are as follows:
Zelma

HD = status C

AA 0/0 = status 0
Only results from 3 more dogs from the Z-litter are awaiting, being Zhivago, Zira and Zamba, and they should roll in during the next couple of months. Zamba is scheduled for her x-rays on June 17th, so her results will probably be next. ;o)
Krondal's Zavannah attended the Danish Kennel Club show in Varde on Sunday and what a huge success that was!! She started out by winning her class, and then went on to become Best Female, receiving her second Cert. But if that wasn't enough, she then went on to compete
for Best of Breed, where she was up against no less than her own father Ti Amo de Dame Midnight (Meeko), who won Best Male. And Zavannah won, becoming BOB!!! ;o))) She then went on to compete for the Best in Group 2, and Zavannah was picked out among the 6 best dogs in Group 2. ;o) Sadly
enough she didn't get placed, which means she ended up as number 5 or 6 in Group 2 – but that is certainly an achievement in itself, and I am very proud of her and off course Trine, who is handling her so well!! ;o)))) Thank you Trine for showing her so much, I am very thankful
for that – and now you only need one more Cert before having a Danish Champion….. ;o)))
26.05.2008
Medusa has now been bred to Bon Vitalis Keeper ;o))))
She was bred between the 15th and 20th of May, so puppies are expected in the middle of July. I should be able to see the result of the mating on her stomach end June / beginning of July – so for the next month there is nothing left to do except for crossing those fingers and trying to be
patient…not the easiest thing in the world!! However, I will try to concentrate on other things for the next month – for instance the GREAT weather we are having! ;o) Good weather is particularly nice when feeding BARF, as I now don't need to have raw bones lying around in the house(!),
but can keep them outside on the lawn – very practical…;o) Pictures below of Medusa enjoying some goat bone in the garden. ;o)

Also, some new pictures of Krondal's Zelma have been added, you'll find them in the Puppies menu / Z-litter. Zelma has just had her hips and elbows x-rayed, and I am very excited to see the official results from the Swedish Kennel Club – the results will off course be posted right here as
soon as they roll in. ;o)
01.05.2008
FINALLY – Medusa is in heat!!! ;o))))
Medusa is to be bred to Bon Vitalis Keeper in a couple of weeks and hopefully puppies will arrive in the middle of July. ;o)
As of now, I already have a long list of people waiting for a puppy, so until I can verify that Medusa is pregnant, I will not be signing up any more people for puppies. However, as soon as I know for a fact that puppies are on the way, I will announce it here on the page, and you are
welcome to contact me, should you be interested in a puppy from Medusa. ;o)
In other news, I have spent a couple of days within the past week to fill up the freezer – with dog food, off course!! ;o) I have an aunt and uncle, who are breeding meat- goats and sheep, and they were having 6 goats slaughtered last Friday. Lucky for me (and Medusa!!), they had no
need for the bones or the offal (:indmad), so I picked up 2 large sacks of bones and a sack of offal, that I spent last Saturday night cutting and freezing. I had borrowed an old meat mincing manchine of my parents and was counting on just pouring everything into this – however,
the machine kept on getting stuffed and packed, and after half an hour I gave up and decided to cut everything manually – what a great way to spend a Saturday night, haha! ;o)
Pictures below of the 16 kilos – on the plates are lung, liver and throats. Notice the retro look of the meat mincing machine – this machine is actually FROM the 70's, when this design and colour was high-fashion the last time! ;o)

The lung and liver went into the oven and was dried and Medusa absolutely loves these dried snacks!! The throats were – supposed to be! – dried outside in the sun on my garden table, but when I went outside to check on them after about an hour…they were GONE!!
I searched the garden but couldn't find them anywere, Medusa hadn't snatched them, so I assume some birds found them very interesting and stole them – THIEVES!!!
Yesterday was "Round 2" of filling up the freezer – Trine Larsen (owner of Krondal's Zavannah) had picked up 19 kilos of tripe (:kallun) directly at the slaughterhouse, so we spend a good hour outside in her garden, cutting and packing this yummy, delicious and absolutely non-smelling
treat for the dogs!! :o/
I went home with 13 kilos of tripe and a sack of lamb-bones and Medusa just looooved me when I got home, which off course makes it all worthwhile… :o)
21.04.2008
Today I got a very exciting call from Marie at Kennel Estéphe, who is the owner of Krondal's Ziljah Zupreme – her HD and AA status had just been announced, and looks as follows:
Ziljah

HD A/A = status A

AA 0/1 = status 1
Needless to say, I am VERY excited and happy about this result and I am sending huge congratulations to Marie with her girl! ;o) Along with the great result, Marie also send me some new pictures of Ziljah – go to the Puppies
section and choose Z-litter if you want to have a look. ;o)
I am still waiting for Medusa to go into heat, but am predicting it will happen any day now… We visited my parents on Friday, and when Medusa was finished marking EVERY corner of the courtyard, she stepped inside into the kitchen, placed herself right above one of my mother's dogs
(a cavalier king charles spaniel), lifted one hind leg – and peed on the back of poor Daniella!! Apparently, Medusa is planting her smell on anything and anyone these days, so hopefully it is a sign of heavy hormon production – if not, she is just being a pig, and I really hope that's not
the case…! :o/ ;o)))
07.04.2008
A new picture has been added of Krondal's Zelma – look under Puppies / Z-litter. Zelma will be attending the show in Hässleholm, Sweden in May.
Other than that, not much new to report – still waiting for Medusa to go into heat, but I believe she will do so within the next week or two – I took her for a walk in the park Saturday, and 3 male dogs tried to climb on top of her, more or less at the same time!! So apparently,
she is starting to smell good…;o)
22.03.2008
Krondal's Zavannah became Best Female and BOS, achieving her first CAC today at the national Danish Kennel Club show in Næstved – congratulations to Trine!;o)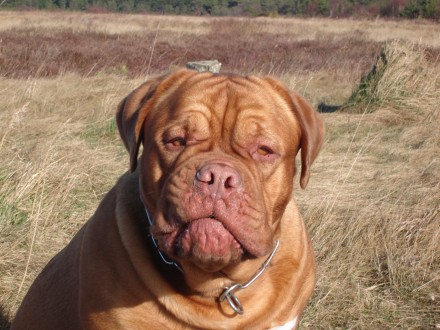 16.03.2008
Another HD/AA result from the Z-litter is now ready, although sadly not as good as the first ones. Zoya's result has just ticked in and looks like this:
Zoya

HD C/D = status D

AA 0/0 = status 0
The owner's expectations were higher for Zoya's results, as she has never had any problems with either hips or elbows, so this was naturally disappointing, however Zoya is doing great and apparently isn't aware that she doesn't have the tightest hips in the world(!) and that is off
course the main concern…;o)
Although the hips differ on the litter, I am very pleased to see that all dogs from the Z-litter so far have straight 0's on their elbows, and I am hoping this will continue as the last results tick in. ;o)
A long with the HD/AA results on Zoya, I also received a new picture of her, that you can see in the Puppies menu / Z-litter. ;o)
17.02.2008
Admitted – it's about time for an update! Ever since Medusa turned out to be NOT pregnant before Christmas, there hasn't been much to report – everything is pretty much back to normal and I'm waiting for Medusa to go into heat again sometime in May, when we will be visiting
Bon Vitalis Keeper again, and hopefully this time get a basket full of little red ones… ;o)
However, allthough I don't have any news on Medusa, I still do have some news to report, as the Z-litter has turned 18 months and hip and elbow scores are starting to tick in… ;o) The hip and elbow scores will be put on the Z-litter page under the Puppies section as they roll in, so
that you will have a full overview of the hips and elbows of the litter on this page.
So far these official results are in:
Zavannah

HD C/C = status C

AA 0/0 = status 0
Zhakira

HD A/B = status B

AA 0/0 = status 0
Needless to say, I am very pleased with the first results and furthermore, these two girls are also doing a great job in the show rings ;o) Today was the International Kennel Club show in Odense, where both Zavannah and Zhakira were entered – they both received 1st prizes, Zhakira won
the class with CK and went on to compete for Best Female, where she came in second and received Reserve CACIB – well done Susanne and Zhakira, you both did a great job!! ;o)
Picture below of Susanne and Zhakira by Dan and Marie-Louise at Kennel Queensville, who won Best Female AND Best of Breed AND got a Danish Champion with their gorgeous girl Gladiola von Canyaya – a big congratulations to you too! ;o)
11.12.2007
Yesterday I took Medusa to the vet for a scan to see, if there were any puppies on their way. The vet started to scan her while she was standing up – after having scanned her for a while, and still not having seen any puppies, we laid her down on her side and he did a very thourough scan
on her in this position – and sadly by the end of it had to give me the bad news, that there are no puppies inside her…
This is off course very disappointing. I had been looking so much forward to a bunch of red babies in January, especially because I had plans of keeping a female myself
this time, so this clearly ruined the christmas spirit for me… :o(
But natures way is neither predictable nor controllable, and there is nothing more to do about it than to wait for Medusa's next heat sometime in May. I will be breeding her to Bon Vitalis Keeper again in her next heat and hopefully have a lovely bunch of reds in July 2008. ;o)
A couple of new pictures have been added of Krondal's Zhivago – go to the Puppies section and choose Z-litter.
26.11.2007
This weekend was the annual Christmas show held by our Danish Dogue de Bordeaux Club – as always it was extremely cozy, it is less stressful than the big Kennel Club shows and therefore I had entered Medusa. As she is – hopefully – having her second litter in January and she is turning
4 years old in March, this would be her last show. She never did very well in shows, she is a good healthy average female but certainly not a top show dog, and therefore I have never shown her very much. However, as these Christmas shows are always very pleasant and as I wanted to support
our club for their efforts in arranging the show, I had entered her into the competition, and it actually went quite well. She got her 1st prize, which I was very content with, so I think she retired from the show ring in a good way. ;o) Furthermore, 3 of her daughters from the Z-litter
were also entered in the competition – Zavannah, Ziljah and Zhakira. All 3 girls got 1st prize and Zavannah ended up as Best Youth Female and 2nd Best Female all in all, a very good performance for a 16 month old female who is not yet fully grown. Furthermore, Zavannah went on to the finals
and ended up as BIS2 in the Youth Class, only beaten by the dalmatian – what a day for Zavannah and Trine!! Congratulations to all 3 girls and the owners, and thank you so much for showing up, it's always a pleasure. ;o)
14.11.2007
The Y-litter is hopefully now on it's way! Medusa and I have been visiting Bon Vitalis Keeper twice and I am now crossing my fingers that it went as it should. We drove down to visit Keeper this Saturday for the first time – before that, I have been doing bloodtests on Medusa Monday and
again Wednesday last week – both tests showed that she was still only in phase 2 out of 4, so the vet and I agreed, that she would peak at the earliest in the weekend. We arrived at Bon Vitalis just after noon, the weather was beautiful and the dogs were very sympathetic with each other.
They fooled and flirted around for about half an hour, but it still seemed a bit too early for Medusa – every time Keeper was getting "too serious", she moved and started to play again, so after half an hour we decided to inseminate her. We went back home after a well performed insemination
(thank you, Kedde!) and stopped by the vet again Tuesday morning for another bloodtest. This time the vet called back very excited – she was peaking in phase 4 out of 4, which we all had predicted, so the car was already packed and we drove back to visit Keeper Tuesday afternoon. However,
Medusa had unfortunately forgotten to read the results from the bloodtest and the only thing she was interested in, was all the bones spread out in the garden!! Keeper tried to move in on her a few times, but today she didn't even move her tail, it was obvious that she did not think it
was the right time for anything else but dinner!! Apparently, this is not so uncommon – that the female's hormons are not completely in sync with her body, and Medusa apparently believes that she should be bred on Day 14-15, whereas the bloodtests show that she is not ready until Day 18-19.
So, as Medusa was absolutely not up for a natural breeding, Kedde once again had to find the equipment to perform an insemination, and did so without any problems. As the bloodtest showed, that the timing was perfect, we decided that the two inseminations should be sufficient, and from now
on there is nothing left but to keep those fingers crossed… ;o) Puppies should arrive around January 10th-15th. Below are a couple of pictures from our visit at Bon Vitalis on Saturday.

07.11.2007
This weekend the Danish Kennel Club held a show in Herning, I went along with Trine Larsen, as she was showing one of Medusa's puppies from last year, Krondal's Zavannah. Krondal's Ziljah Zupreme was also entered in the show, both girls in Youth Class. The judge was Bas Bosch,
which made it more interesting for several of us, myself included. The show went very well for both girls – out of 7 females in the Youth Class, Zavannah and Ziljah became no. 1 and 2, both with CK! I was off course very happy – CONGRATULATIONS Trine and Marie with your girls
and thank you so much both of you for traveling all the way to Herning to show your dogs. Below a picture from the show – Trine with Zavannah on the left, winning the class, and Marie with Ziljah on the right, 1st runner up. ;o) Thank you Marie-Louise at Kennel Queensville for letting
me use this picture, taken by her. ;o)
In other news, I have had bloodtests done on Medusa Monday and again today Wednesday, to determine the right time for breeding her. Both bloodtests showed the same result, she is still only in Phase 2 out of 4, and I am predicting she will probably peak in the weekend or early next week.
Medusa and I will be traveling to Kennel Bon Vitalis on Saturday and probably again Tuesday next week – and from there on, there is nothing left but to cross our fingers that some lovely puppies will show up within the next couple of months… ;o)
31.10.2007
Time for an update!! And this time, there is really something to tell!!
Medusa is in heat!! She started Saturday, which is a month earlier than expected, but it is certainly very welcome, as I now don't have to worry about breeding her on Christmas Eve!! ;o) She will be bred within the next couple of weeks and the puppies are due to arrive mid January
and will be ready to leave for their new homes beginning/mid March 2008.
As for the upcoming breeding of Medusa, there has been a change in my choice of male. I bred Medusa to Sodium in France in May 2007 but unfortunately she was empty. I would have very much liked to have puppies after this combination, but unfortunately there has been some complications regarding Sodium, which
means I will not be able to use him for breeding again. Therefore, I have looked around and actually been able to find a very suitable male within the country (allthough very close to the german border *s*) – I have chosen to breed Medusa to Bon Vitalis Keeper so Medusa and I will
be making some trips to Jutland within the next couple of weeks… ;o) I will be doing bloodtests on Medusa this time to determine the perfect time for the breeding, the first bloodtest will be taken this Monday.
You can find more information on Keeper and see the final pedigree for the upcoming litter in the Puppies section / Planned litters.
Also, a few new pictures of Zoya and Ziljah have been added, go to the Puppies section / Z-litter.
05.09.2007
I have been changing the food habits for Medusa recently, and for the past month she has been fed according to the BARF-principles (biological appropriate raw feeding) – and it is a huge success!! ;o) At first, Medusa thought I had gone insane, when I started putting raw meat in
her bowl, and she absolutely did NOT want to eat any of it!! But after a while (and after not having eaten anything for 2 or 3 days!) she developed a taste for it, and by now she is running ahead of me to her food-spot, waiting for me to bring her bowl, she absolutely loves it now,
and it's a great pleasure to give your dog something that she actually wants! Food has never been a big issue for Medusa before, but I can promise you – THAT has changed!! Until now, she has been shedding non-stop since the transfer to BARF, and I was beginning to think that she
would go bold(!), but now she is getting her new fur and it looks really good. And the shedding is an absolutely normal reaction to the food transfer, as her body has done a complete clean-out after not being fed regular dog food anymore.
Her menu now contains of a good mix of kallun (cows stomach), reindeer, duck, ox heart, turkey necks and whole ox-bones as well every now and then – which, by the way, has removed every trace of bad breath! The other day she got a whole ox-tail in one bite – a piece of approximately
1,5 kilos, so she didn't get any food the day after, as this piece easily could make it out for a 2-day meal!! Below are some pictures of Medusa and the ox-tail – oh BOY, did she enjoy that!! ;o)))


29.08.2007
Today was the day of the last SAS-scan for the Z-litter and 6 of the dogs from the litter participated in the examination. It went as predicted, no surprises on the results, and the dogs had velocities in the flow of blood between 1,9 and 2,4 m/s. You can read more about the
SAS heart condition, if you go to the Health Issues menu. As all dogs are still healthy, the examination today concludes the study on the Z-litter and we won't have to go back again – the dogs have now been examined 4 times since they were born, and I hope that the results of this
study can help the vets in their further study of SAS in the Dogue de Bordeaux.
I would like to take this opportunity to send out a BIG THANK YOU to the owners of the Z-litter puppies for taking their time to show up in Copenhagen and have their dogs examined – I really appreciate
your participation in this!! ;o)
I took the opportunity today to get some pictures of the Z-puppies – I got some really nice snapshots of Zira, you will find them in her own gallery in the Puppies section, then choose Z-litter. Also, I TRIED to get a nice shot of 5 of the dogs together, but it was certainly
not easy – and it didn't help that 3 of the girls are in heat and poor Zhivago was going out of his mind! ;o) You'll see the result below, this was the picture that came out the best…
From left to right: Zhivago, Ziljah, Zhakira, Zavannah and Zamba.
20.08.2007
New picture of Zoya – go to the Puppies section and choose the Z-litter.
Wednesday next week, August 29th, the Z-litter is going back to KVL Landbohøjskole The Royal Veterinary University to be examined for the heart condition SAS. As you may know, I volounteered to let the Royal Veterinay University follow my Z-litter since they were born, as they were
looking for litters to examine to find out more about this heart disorder. The puppies in the Z-litter were examined at age 5 weeks, 8 weeks, 7 months and now again at age 13 months and that will conclude the study on these dogs. All the results from the last scan at 7 months looked
very good, and I don't think there will be any significant changes to the results this time, but it's off course always nice to have it confirmed…;o)
08.08.2007
New pictures of Zavannah, Zhakira and Zhivago in the Puppies section / Z-litter… ;o)
As many of you know (people in Denmark anyway!), there is a competition going on at the moment to find "Denmark's Cutest Dog", the competition is being arranged by the TV channel TV2 and the magazine "Vi Med Hund". The competition takes place at 8 different locations throughout Denmark,
where everybody can show up with their dog, it doesn't matter if it is young or old, small or big, purebred or a mix – all dogs can enter the competition as long as they are cute! Monday the team was in Copenhagen, where no less than 637 dogs had shown up! …and only 10 dogs were to
continue to the final rounds… Among these 637 dogs were Krondal's Zavannah – and against all odds, SHE MADE IT among the final 10 dogs to represent Copenhagen in the competition!! Zavannah's owner Trine had asked me the day before if I wanted to come with her and keep her company, but I
said no due to other plans – but had I known how well she would do I would have cancelled whatever other plans I had, I would have loved to see Trine's happy face when Zavannah was picked out among the final 10!! ;o) Congratulations Trine, and good luck in the competition!! ;o)
The competition will be broadcasted on TV2 the following 4 Fridays at 20 pm, first program is this Friday the 10th of August. And more importantly – from now on it is the viewers and readers who will decide, which dog is to be named "Denmark's Cutest Dog 2007", so I will hereby encourage
you all to vote for Zavannah on the site www.vimedhund.tv2.dk – the voting kicks off on Friday and I believe you can vote once a day. The final is on Friday the 31st of August and will be broadcasted live from Gavnø Slot in Næstved – and how great would it be to see a Dogue de Bordeaux
there!!? ;o) Only one dog from each region will continue to the final, so it will take some votes to help Zavannah through…..so you know what to do…;o) ;o) Below two pictures of Zavannah from last weekend to convince you… ;o)

29.07.2007
Bad news – unfortunately there are no puppies in Medusa this time…:o( She is completely back to her normal self, playing with her toys and jumping around and even eating her regular dogfood again! So it is unfortunately a fact that we won't be having any puppies this summer…
I am planning on breeding her again in her next heat, which should be in the middle of December with expected birth middle of February 2008. If everything looks good I will breed her to Sodium again.
19.07.2007
As promised, new pictures of Medusa – as you can see, well, there is not much to see… However, she has certainly developed the habits of a pregnant female, and has decided, that she no longer wants to eat dogfood!!! Therefore, she is now being served rice with either chicken or fish
or, as shown on the pictures, bread with cheese and "leverpostej", yummi….and when fed by hand, it is easier to eat more, so I am off course doing that!! ;o))) Last year, she gave birth on Day 59 of her pregnancy, which is a bit early, but that might have to do with the size of the
litter (11 born puppies). This year however due to the apparantly smaller litter, she might go the entire time of 63 days, which means the puppies will arrive around Friday next week.
As you can see from the pictures below, she DOES have that square-shaped body just behind her ribs, that caracterizes a pregnant female, but clearly there is not a whole football-team in there this time…

18.07.2007
The time is getting closer for the expected birth of Medusa's second litter, but unfortunately she more or less has stopped growing and is not nearly as big as last year or as I would have hoped for… :o( However, her stomach has the shape of a pregnant female,
so I don't think she is completely empty, I do believe there are puppies in there – but probably not very many… I will try to get around to taking a few pictures of her within the next days, allthough there is not much to see…
16.07.2007
The Z-litter is one year old today – HAPPY BIRTHDAY!! ;o)
06.07.2007
Medusa's stomach is still growing, although it is a bit hard to see on the pictures – nevertheless, here are a couple of snapshots from today, she is exactly 6 weeks pregnant today and should still have 3 more weeks to go… In other (very good!!) news – Fredrik has moved
in from Sweden today, so we are DONE with the driving back and forth between Halmstad, S and Hvidovre, DK – what a relieve! And best of all, Fredrik will be here to help out with the puppies – poor guy, he's got NO idea what he has gotten himself into, haha!! ;o)

04.07.2007
Things are still going as planned with Medusa, her stomach is now beginning to take the form of a square just behind her ribs instead of being round, just as it is supposed to when she is pregnant, so I am starting to feel quite convinced that puppies will arrive in about
3 weeks from now… ;o)
Krondal's Zavannah has got her own website now – go to the Puppies section and choose the Z-litter to find the link. ;o)
A few new pictures of Krondal's Zelma have been added, you'll find them in the Puppies section/Z-litter as well. ;o)
Due to problems with one of her hips, the owners of Krondal's Zarah (Diva) have decided to put her to sleep.
To the best of my knowledge, none of the other 8 puppies of the litter have had any problems with either hips or elbows to this date. The Z-litter will turn 1 year in just a couple of weeks.
26.06.2007
Medusa is now half way through her pregnancy and everything looks just fine… ;o) I can't see any change in her size yet, but her personality has certainly changed! She is very quiet and calm compared to her usual behaviour and she is sleeping a lot, all signs of a pregnancy
and the exact same behaviour as last year when she was expecting the Z-litter. So I am very positive about the planned litter and am ready to welcome a bunch of adorable puppies – only thing that isn't ready yet is Medusa's room! I have been renovating the wing of the house
where Medusa has her room, and these projects always take longer than you estimate(!) – so we need to speed up the process a little to have the room ready in time for her to move back in and settle in before the puppies arrive… My parents are luckily being true angels and
are helping out a lot, so is Fredrik whenever he can get time off from his job in Sweden – a BIG thank you to all of you, otherwise I predict that my bedroom would have been turned into a nursery in about a month from now and Fredrik and I would be sleeping in a tent in the garden!! ;o)
Below – some pictures of a VERY tired Medusa, picture taken yesterday, and some pictures of the work-in-progress – Medusa's room!
Medusa's room, Easter 2007 – great aircondition!! ;o)
Medusa's room, roof coming up again…
Medusa's room, walls coming back up…

Medusa's room YESTERDAY! Roof and walls are up again and Dad working on the finishing ;o)

She even has windows out to the hallway now, so she can see what's going on and get some light in from the garden…;o)
31.05.2007
New pictures have been added of Krondal's Zhivago, Zarah and Zoya – go to the Puppies section and choose the Z-litter button if you would like to see them…;o)
30.05.2007
Home from France again! ;o) Fredrik, Medusa and I returned home from France Sunday night after 3 succesfull inseminations, so now there is nothing left to do but to keep those fingers crossed that puppies will arrive in a couple of months… ;o)
Medusa was inseminated May 24th,
25th and 26th, which was Day 14, 15 and 16 of her heat. Last year she was inseminated on Day 15, and the timing looked to be perfect this year too. Sodium almost went out of his mind when he saw her, trying to jump her on the spot when we came in, so Valerie and I had to
drag the dogs apart, otherwise I think we would have had a natural breeding right there in the driveway Thursday evening! ;o) But it was very nice to see that the dogs had so much sympathy for each other, Medusa behaved like a puppy jumping around Sodium trying
to make herself interesting to him and Sodium was just drewling away over this hot chick from the north… ;o) So the trip certainly went well, exactly how I had hoped – a BIG thank you to Laurent and Valerie for their hospitality, Fredrik and I had dinner with Laurent and
Valerie Thursday and Friday evening and a nice french breakfast Saturday morning – you guys are just the best, thank you so much for welcoming us into your home the way you did! ;o)
Aside of the breeding, Fredrik and I also got to do a little sightseeing on the D-day beaches and even made it to Frankfurt on the way home to see some friends, so it was certainly one of the better weekends… ;o) Here are some pictures of the (hopefully) parents to be:


11.05.2007
MEDUSA IS IN HEAT!! ;O) Finally the day has arrived where Medusa decided to go into heat, so I can now predict when the puppies will arrive. Medusa and I will be leaving for France on May 23rd and I am hoping for inseminations on May 24th and 25th, maybe 25th and 26th.
I am expecting the puppies to arrive around July 25th and they should be ready to leave for their new homes around September 19th. ;o)
04.05.2007
New pictures have been added of Krondal's Ziljah Zupreme and Krondal's Zarah – go to the Puppies section and choose the Z-litter button if you would like to see them… ;o)
02.05.2007
Last weekend was the weekend of the Danish Kennel Club show in Hillerød. I had entered Medusa to the show, as she hasn't been shown since she was 18 months old, and I would like to get a judge's oppinion about her now when she is 3 years old and fully developed.
Medusa got a 2nd price at the show, which off course is not anything to brag about, but fully acceptable due to the fact that she is very undershot… This is the reason that I haven't been showing her very much, because it will always be a problem in a show-ring.
But despite the 2nd price, I am actually very content with the critic that she got, no doubt the judge (Claudio de Giuliani from Italy) really liked her and he came back 3 or 4 times to check her bite again, REALLY trying to see if he could fit the teeth in her mouth
– but unfortunately no luck, and he finally gave up… ;o). He did tell me when I asked him however, that she would have gotten a 1st price, had it not been for her bite, and I am very pleased about that. This is her critic: "Right size, good type, too big undershot, with closed mouth
it is possible to see the teeth, very strong in body, enough strong in top line, right chest, too high carried tail, enough paralel movements"
Krondal's Zavannah also attended the show and she too got a 2nd price, I read her critic and it had a lot of possitive comments as Medusa's, the main reason for the 2nd price I believe was, that the butt is too high at the moment(!) but I guess that's a common thing
with a 9 month old DdB and Trine didn't seem to be too bummed out about it…
I am still waiting for Medusa to go into heat… Last year she went into heat on May 2nd (today!) and the following heat after her Z-litter was only 2 weeks delayed compared to the year before, so I am expecting stains on the floor any moment now… ;o) As soon as something happens
I will know exactly when the puppies are expected and I will off course post it right here in the News section, so keep an eye out. ;o)

04.04.2007
New pictures have been added of Medusa (Our Dogs) and Zavannah (Puppies, Z-litter).
As I wrote below on March 19, Medusa has been attending a mentality test with the Danish Rottweiler Club – which was very interesting indeed!! Medusa reacted pretty much as I had predicted,
she didn't exactly take off in fear – but nor did she want to engage in any kind of fight with ghosts or boogiemen!! I believe her theory is, that if she looks the other way and pretends she can't see them – they'll go away!! In one of the situations,
which is the situation where the dog's desire for fight (:kamplyst) is tested, a man is coming towards her, dressed in a long raincoat with a hat and big dark glasses on and he will make himself wide, show his teeth and make "jumps" towards the dog,
to act as a treath to the dog and try to engage a fight – Medusa insisted on looking the other way most of the time, she just could NOT see the man! When she finally realized that he was coming closer and closer, she backed her way around me and left
me in front – better take mommy than me!! And when the man finally stopped and turned his side towards her in a passive stand, I unleashed her – now, at this point she is supposed to approach the man to see that it is only a man and he is not a threath –
but Medusa suddenly couldn't see him again, so when I took the leash off her, she decided to go for a walk and dip her toes in a small lake nearby!!! She even sat down to pee in the lake!! Off course, all of the time she was casting glimpses at me,
just to make sure that I was taking care of the scary looking guy while she was bathing(!), and not until I had completely demasked him and she could see it was only a nice man, did she show up again – and when she did, she seemed like nothing had happened
– "hi Mum, what's up…scared??? me??? Naaahhhh!!". Well, there were a lot of funny situations like this, and all in all I was quite satisfied with the outcome of the test – she showed no desire to fight at all (:kampadfærd), only a little desire to threath
(:trueadfærd) but at no point did she panic or really show fear, she just tried to ignore whatever was making her uncomfortable. I have scanned her test results and you can see them if you click the following link:





I have compared her results with the desired profile for the DdB (:ønskeprofil) – the desired profile is marked with yellow and so is her score, where her reaction matches the desired profile. Her score is marked with pink on those situations, where she
doesn't match the desired profile. As the desired profile only covers the situations included in the small test, that the Kennel Club offers, some of the situations are not marked at all, as there is no desired profile for the DdB for those.



19.03.2007
I have signed up Medusa for a mentality test with the Danish Rottweiler Club!
As you can see from the About Me section, I grew up surrounded by rottweilers and have therefore seen a large number of mentality tests in my early years. I find this test very
interesting, you really learn a lot about your dog and how it reacts in a number of different situations, so even though it is not a demand for a Dogue de Bordeaux to enter a mentality test (as it is for the rottweilers), I would really love to see
Medusa's reaction – it will be nice to know if I ever meet a strange-looking man in the park at night, whether I can count on her or if I need to protect myself while the dog heads home!! ;o)
The reason I am joining the mentality test with the Rottweiler Club is that this test contains several situations, that are not included in the mentality test, that the Kennel Club offers. The test offered by the Kennel Club is equivalent to the test,
that the Rottweiler Club offers for their young dogs, the Youth mentality test, but the last situations of the test, that really stresses and pushes the dog to the limits, have been removed from this test. However, these are the situations, that I am most curious
to see Medusa in, so I have therefore contacted the Rottweiler Club, and have been accepted on one of their tests.
Medusa and I will be entering the mentality test this Saturday March 24th – I will post the results on my website shortly after (unless it is too embarrassing, ha ha) ;o)
11.03.2007
Male has been announced for the next litter! Go to the Puppies section and then choose the Planned Litters section for more details… If you are interested in a puppy from this litter, feel free to contact me – contact info is on the frontpage.
05.03.2007
The Z-litter has now been to Landbohøjskole in Copenhagen to have a follow-up on their hearts! As some of you may know, I gave Landbohøjskole in Copenhagen (the Royal Veterinary and Agricultural
University of Denmark) the opportunity to examine my litter for SAS (Sub Aorta Stenosis), as this disease unfortunately seems to be a problem in our breed. We still don't have very much knowledge of the disease within
the Dogue de Bordeaux, but the only way to learn about it and be able to do something about it, is by gaining more knowledge – and the only way to gain more knowledge is to examine as many dogs as possible. I therefore
felt it was the right thing to do to give Landbohøjskole the opportunity of following an entire litter, especially because both parents of the litter are also examined for SAS. My litter was examined at 5 and 7
weeks and they did a follow-up now at 7 months and will want to see them again for the last time when the dogs are a year old. 8 out of the 9 puppies from the Z-litter have been examined again, the last
one, Zelma, is living in Sweden and I off course didn't ask her owners to come down for the follow-up. But the 8 puppies, that are living in Denmark, all showed up in Copenhagen for the scan – a BIG thank you
to all you owners, who gladly showed up with your dogs for this, I really appreciate your participation! ;o) I am very happy to say, that it all still looks very good for the entire litter! ;o) The 8 dogs all
have a velocity between 1,8 and 2,0 – only one puppy had a velocity of 2,3 but according to the lector who performed the examination, this dog was particularly stressed which may have affected the reading, so I am
not at all concerned about that – and even if the reading is correct, a velocity of 2,3 is still not a problem at all!
Medusa was also examined again – when she originally had her heart scanned for SAS she was under a year of age, and I therefore wanted to have her examined again. She is now 3 years old and her heart looks exactly
the same! She originally had her velocity measured to 2,4 – now she had some readings up to 2,5 so I have stated on her page now, that she has a velocity of 2,5 – but it is very reassuring to know, that it
hasn't changed at all in more than 2 years! I am certainly hoping that this theory proofs to be correct as a general rule, it will be very interesting to see the follow-up on the Z-litter when they have
turned one year old, if the theory is correct, there shouldn't be anything but perhaps some minor changes in the scan then and now. To read more about SAS, go to the Health Issues menu where you will find both a Danish and an English part.
As I didn't have any pictures after 8 weeks of age of some of the puppies from the Z-litter, I brought my camera to Landbohøjskole, when we all met up for the scan – so you will find a major picture-update of the
Z-litter if you choose the Puppies section and then choose the Z-litter section! ;o)
11.02.2007
Today Medusa's daughter Zarah (nickname Diva) came for a visit and we took the girls for a walk in the park – it's almost scaring, how much they look alike!
If I didn't know better I'd think Zarah was a clone of Medusa! …and she seems to be just as undershot as her mum, something that Zarah's owner Vicky and I
off course agree is very charming!! ;o) We managed to get a few pictures of mum and daughter together, unfortunately they are rather dark and not totally sharp,
but you can clearly see the resemblance! You'll find a picture of them together in Zarah's gallery – go to the Puppies section and then choose the Z-litter section.
Here you'll also find another new picture of Zarah alone as well as new pictures of Zavannah, that I just received today – she looks absolutely gorgeous! ;o)
10.02.2007
Medusa and I took a nice walk on the beach today, something she really loves! I managed to bring the camera, although she is almost impossible to take
pictures of on the beach – because of all the interesting smells, I hardly ever see her face, it's more or less constantly burried in the sand! ;o)
I succeeded in getting a couple of shots of her – go to the Our Dogs section and chose her adult gallery if you'd like to see them ;o)
07.02.2007
A new picture of Medusa has been added – go to the Our Dogs section and chose her adult gallery.
New pictures of Ziljah and Zoya have been added – go to the Puppies section and then choose the Z-litter section.
Zarah has her own website now! Go to the Puppies section and then choose the Z-litter section for her link.
07.01.2007
Update of the Z-litter page – go to the Puppies section and then choose the Z-litter section – as you can see, all puppies now have their own page with pictures! ;o) HD/AA results will be posted
on the main Z-litter page when they start to roll in in about a year from now…
21.12.2006
Today, December 16th, was the day of the Danish Dogger Club's Christmas show. 4 of the puppies from my Z-litter was entered in baby-class in the
show, they are exactly 5 months old today. For our breed it was a huge class of 7 female babies! All 7 females got 1st price, so it was very exciting
when the judge started to pick out the 4 babies to place as number 1, 2, 3 and 4. Out of these 4 babies, 3 of them were from the Z-litter and the class
ended up with Krondal's Ziljah Zupreme as number 2, Krondal's Zhakira as number 3 and Krondal's Zavannah as number 4 – congratulations to all of you! ;o)
All in all it was a very good day with a great atmosphere among everybody, a huge amount of sponsored prices for everybody who entered the show and a
judge who took her time to help newcomers and give each dog a thorough and detailed critic – the christmas spirit was sure on, so a big thumbs-up to
the Danish Dogger Club for arranging the show. ;o)
Apart from Ziljah, Zhakirah, Zavannah and Zarah, who were all entered in the show, Zira also turned up, and I succeeded in getting a snapshot of the
5 girls together. Unfortunately the picture is taken indoors with the flash on – which explains their daemon-eyes! From left to right: Ziljah, Zarah,
Zira, Zhakira and Zavannah – pretty obvious that they are sisters, I think…..they have the same eyes, ha ha… ;o)
03.12.2006
I hope you enjoyed the new picture on the start-page! The picture is of Zhivago, I took the liberty of taking some christmas pictures of him just
before he left the house in September, I thought he made a great model! ;o)
Medusa is now in heat again, which is almost the exact same time as last year (17 days later) – I had expected a longer delay after her litter
this summer, but her clockwork is obviously still very much in sync… ;o) I am off course not breeding her this time, but will wait until the
next time she is in heat, so if she sticks to the schedule, puppies are expected around August 1st 2007.
I have received some new pictures of a handful of the puppies, they are all about 4 months old on the pictures below.
Enjoy Zarah (Diva), Zavannah, Zoya, Zelma and Zhivago: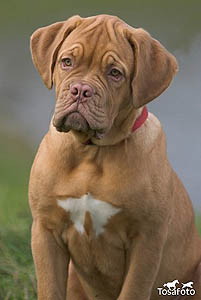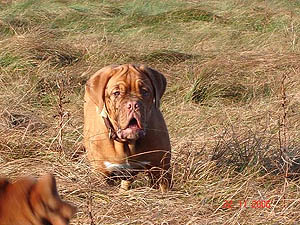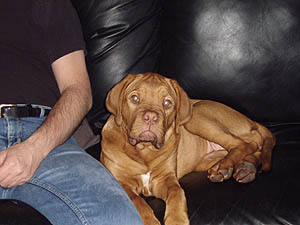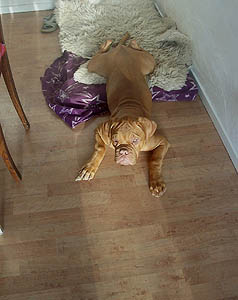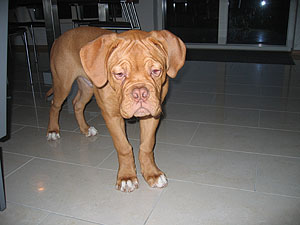 …and the first puppy from the Z-litter has already made her way into the medias. ;o) Krondal's Zarah (Diva) is featured in the latest edition
of the Danish magazine "Vores Kæledyr", on the streets from November 30th. The magazine includes a feature from the dog-school that Zarah is
attending and has some very sweet pictures of her and the other puppies in her class:



25.10.2006
Time for a short news update again – although there isn't much new to tell. Everything is back to normal here, Medusa has put on all the weight
she lost after having the puppies (and a little more, I think!).
All the puppies are doing well with their new families, and hopefully I will have time before too long to update the Puppies section and create
seperate sites for each puppy with pictures of them as they grow up – but unfortunately this is not done in 5 minutes, so it will still be a
while before this part is ready. Until then, here are 3 very nice pictures of Zarah, Zavannah and Ziljah – Zarah is only 2 months and 1 week
on the picture, Zavannah and Ziljah are 3 months old.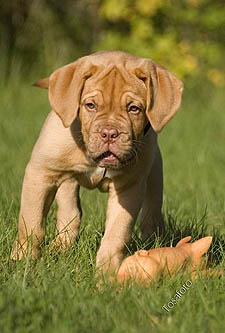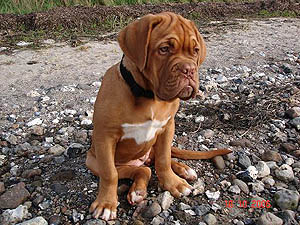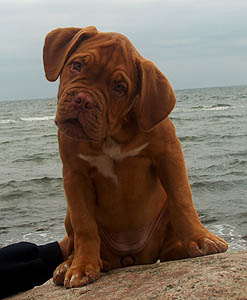 17.09.2006
The day came when the puppies turned 8 weeks old and they have all moved out to their new families now… Medusa took the leaving of the
puppies very well, in fact she hasn't been searching for them or even wondered where they went at all, so it has been very easy for her to
send them off – to be honest I think she is quite happy to go back to her usual ego-lifestyle, being the only dog in the house and getting
all the attention…
The puppies all left on Sunday September 10th and right after the last one drove off, Medusa and I went for a long walk in the park, something
she really enjoyed. When we came back she seemed to have forgotten everything about the puppies….puppies…..what puppies???!! She just went
and drank some water and then climbed up into her chair and went to sleep – and staid there for almost the rest of the day, just enjoying
having no responsibilities for anyone but herself… This picture was taken on that particular afternoon and pretty much speaks for itself – this
is what you look like after having 9 babies for 2 months….TIRED!!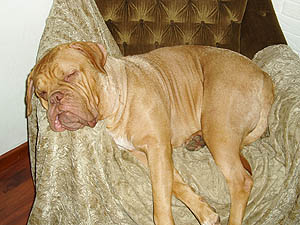 Zoya is still available, here are some pictures of the sweetheart: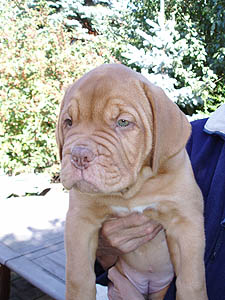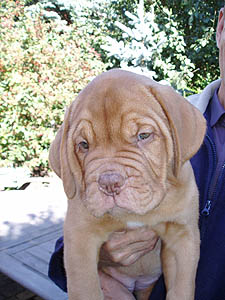 08.09.2006
Final pictures of the puppies before they leave! Pictures are taken Friday 8 September, only 2 days before they are 8 weeks old. I also
weighed the gang today, the girls weigh between 7200 and 8550 g and Zhivago has taken the lead with 9250 g.
(mouseover for name!)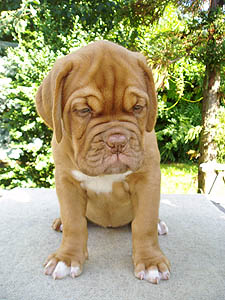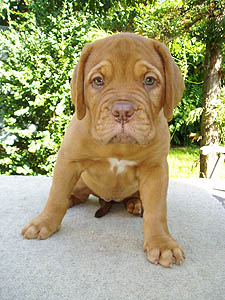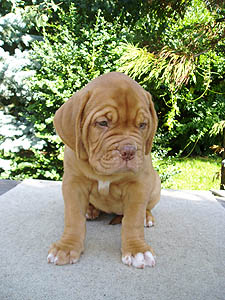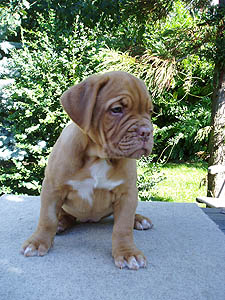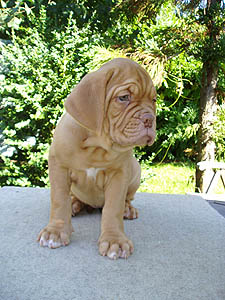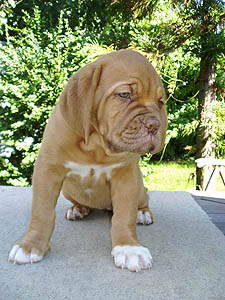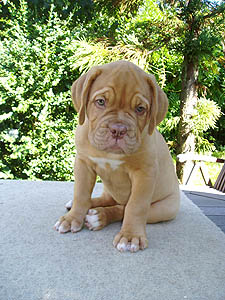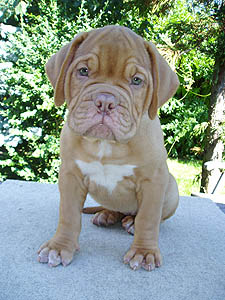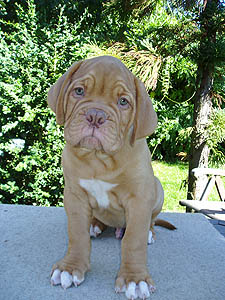 Yesterday all of them visited KVL Landbohøjskole one more time, as Jørgen Koch and Miriam Höllmer for scientific reasons had asked to examine
them twice for SAS before they turn 8 weeks. It still looks very good and all puppies still have a velocity in the flow of blood across the
aortic valve (:aorto udløbshastighed) of less than 2,0 m/s. Read more about the heart condition SAS and the Danish study of Dogue de Bordeaux
– click here for the Danish version and here for the
English version.
28.08.2006
Time for another update and some new pictures of everybody…
I announced a few days ago that 2 females were still not sold – one of them already found a new home, and that is female 7, that I had chosen
the name Zoya for. However, her new family prefered the name Zarah, and as the puppies haven't been chipped yet, there is no problem in
switching the names – so female 7 is now Zarah and I still have the dark Zoya left, see pictures of her below: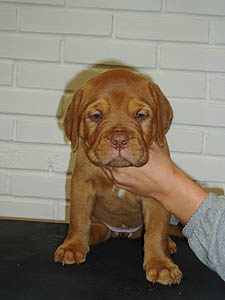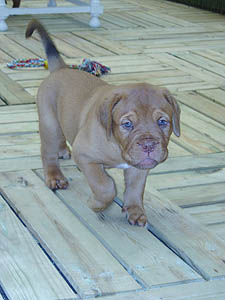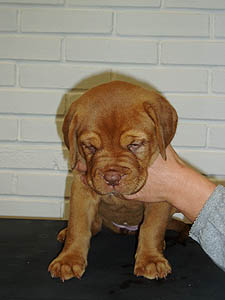 New pictures have been taken of everybody, they are from 27 August and the pups are 6 weeks old:
mouseover for name!)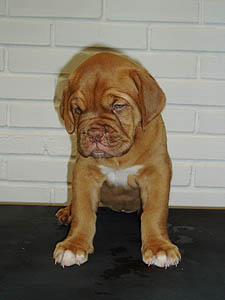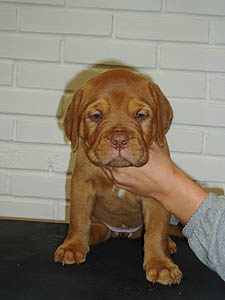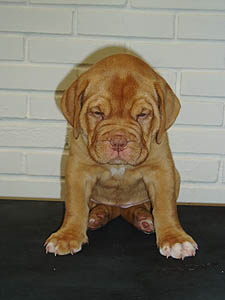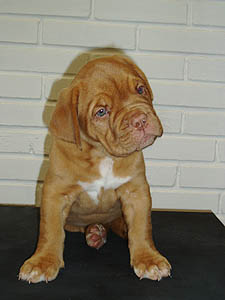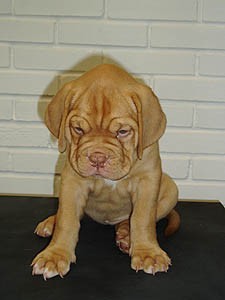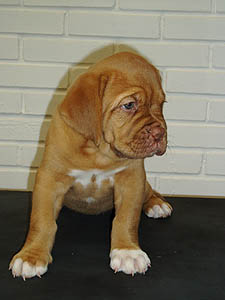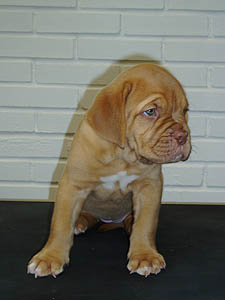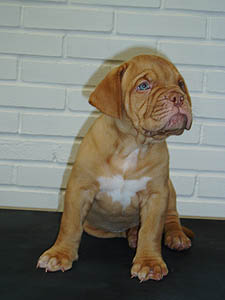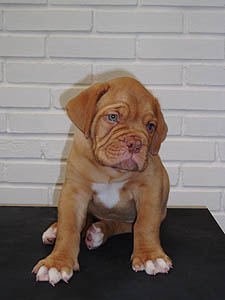 Medusa is starting to get a bit tired of the little ones – that really aren't that little anymore! So she found that it is much better to be
sitting in a chair outside of the playpen and watch them from a safe distance, she even found a way to play with them from the outside of the
playpen! However, she has to admit that one great advantage of having puppies is that I have bought a lot of new toys, and when it comes to
playing she is still just a big baby, so she is stealing the toys any chance she gets – if I can't find the toys I can be sure that it is hidden
under the blankets in her dogbed…. ;o)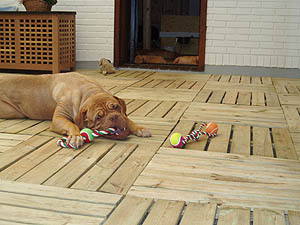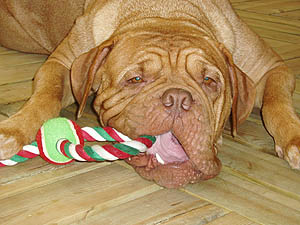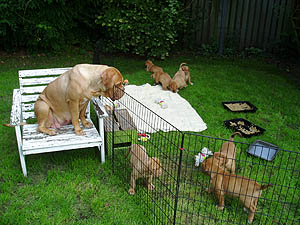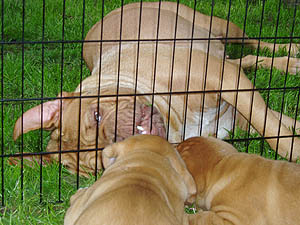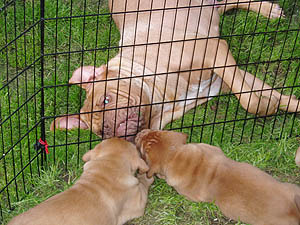 24.08.2006
Everybody have made their choice now for which puppy they want, so finally it is possible to know them by name and not only by number. ;o)
However, although all puppies were sold several weeks ago, unfortunate circumstances now mean that 2 females are still available. Originally I
wanted to wait until next year to keep a female from Medusa – but when she delivered 8 girls I felt that I wouldn't get the opportunity of having
this many puppies to chose from next year, so I have been reserving a female for myself all along. But my job-situation right now makes it more
or less impossible to have time for a puppy, so I have now decided to let them all go. Furthermore, another person unfortunately had to pass on
the puppy due to personal matters, and this leaves 2 females available. The available females are Zarah (female 2) and Zoya (female 7) – if you
are interested in one of the girls, give me a call. ;o)
(mouseover for name!)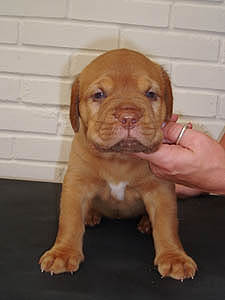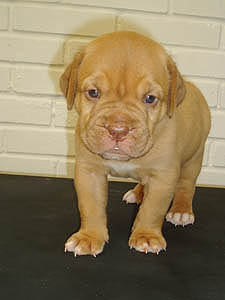 The names for all the puppies are:
Female 1 – Zavannah
Female 2 – Zarah
Female 3 – Zhakira
Female 4 – Ziljah Zupreme
Female 5 – Zamba
Female 6 – Zira
Female 7 – Zoya
Female 8 – Zelma
Male – Zhivago
All the puppies have now been to KVL Landbohøjskole to have their hearts examined for SAS. The examination was performed by Jørgen Koch and
Miriam Höllmer, and all puppies have a velocity in the flow of blood across the aortic valve (:aorta udløbshastighed) of less than 2.0 m/s ;o)
To read more about the disease SAS and the Danish study of Dogue de Bordeaux click here for the danish
version or here for the english version.
15.08.2006
Finally some new pictures of each puppy! They are now 4 weeks and quite a handful but completely adorable…
(mouseover for name!)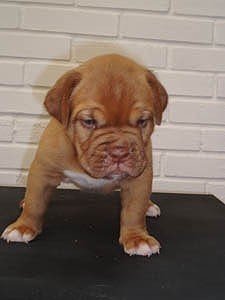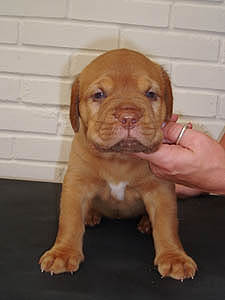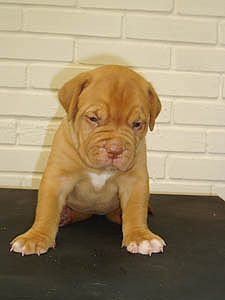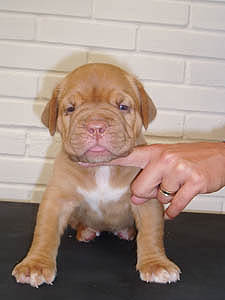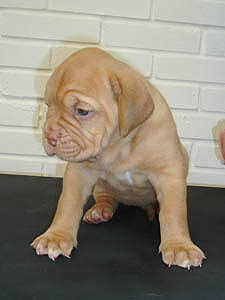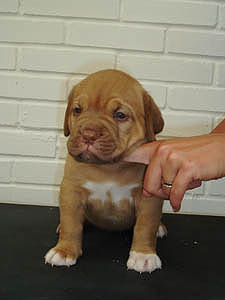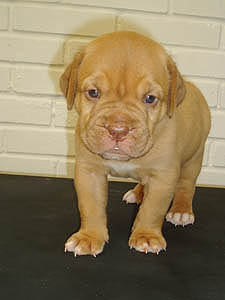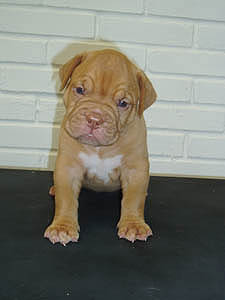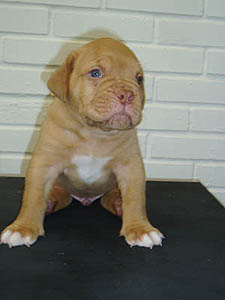 Because of the bad weather lately they haven't been able to spend much time outside, but today the sun was finally shining again, and they had
a great picnic on the grass, I put up some pictures of it and will keep my fingers crossed that the weather will be alright for the next 4
weeks, because they sure enjoyed it…;o)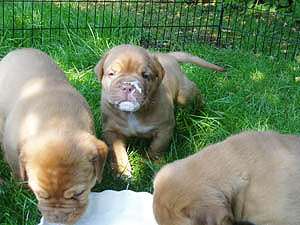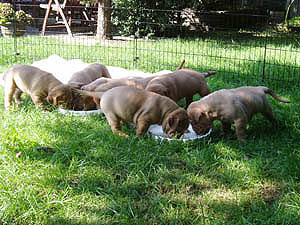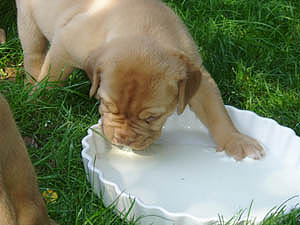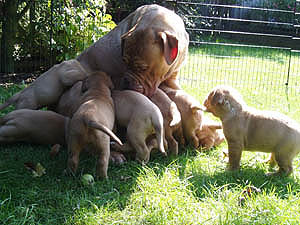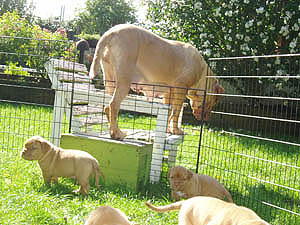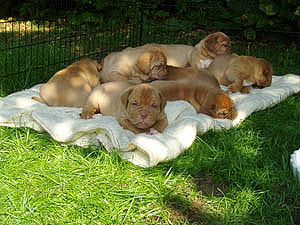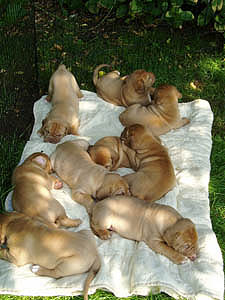 12.08.2006
The pups have moved out of the maternity-box, it was getting too crowded…. They now have a nice big playpen (:kravlegård) in the corner
of their room covered with shavings (:høvlspåner) and another playpen outside in the garden, so they are really starting to explore the
world. I don't have any new pictures of each puppy this time, but I do have a few shots of the entire gang in their new playpens, both
inside and outside. Also they have started eating regular dog food which is a total mess(!) but very funny to look at – so all in all they
are just getting more and more enjoyable every day…;o)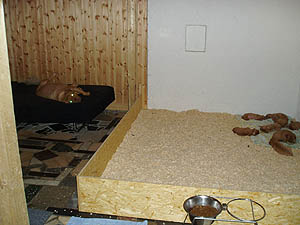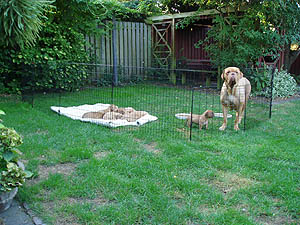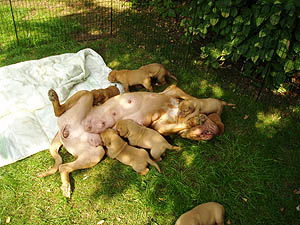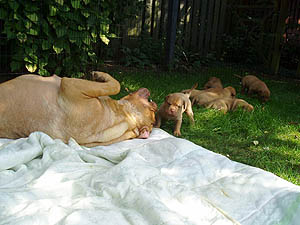 03.08.2006
New pictures! I got some assistance to get some new pictures taken of each puppy, so here they all are, now 16 days old – cute, aren't
they? ;o)
The pictures clearly prove the point that we alle know – girls seem to find it way more enjoyable to have their picture taken than
boys – Zhivago chose to sleep on his picture….;o)
(mouseover for name!)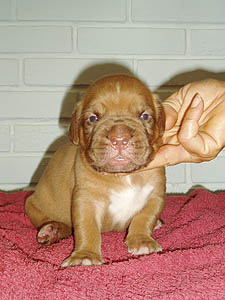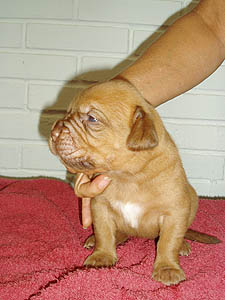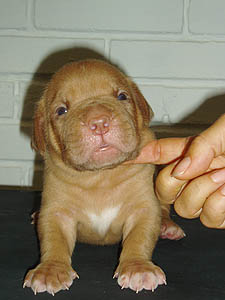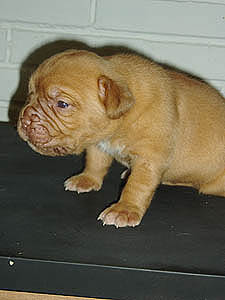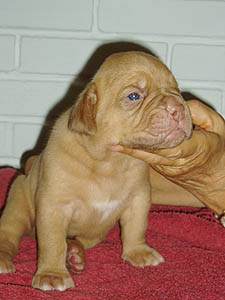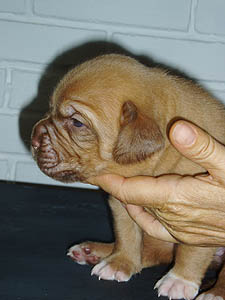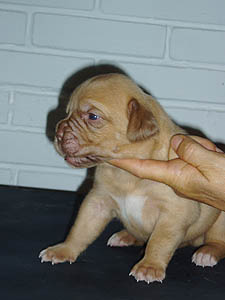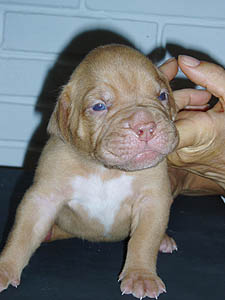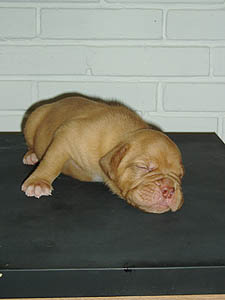 Also I found today that the pups sure have powerful jaws and very good instincts when it comes to eating!! I was pickin up one of them
(Female 4), holding her up to my face, and she immidiately started looking for food, thinkin that my CHIN might be a nipple! (yep, she
definately needs glasses!) – once she had sucked on to my chin I could hardly drag her off again, and even though it was only for a second
or two…..the result is now a GIANT HICKEY on my chin – it has turned completely purple!! ;o) It really looks completely hilarious, I think
I'm gonna be the joke of the day when I go to work tomorrow…. ;o) ;o)
01.08.2006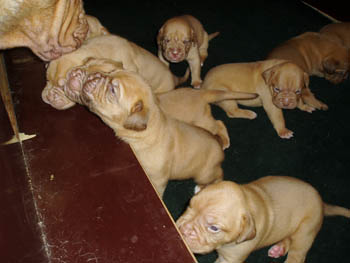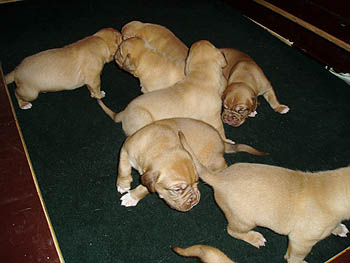 The names have been chosen! The little male puppy was named a while ago (Zhivago), and I have now decided on names for the 8 girls too, so this
will be the names of the litter:
Boy:
Krondal's Zhivago
Girls:
Krondal's Zelma
Krondal's Zavannah
Krondal's Ziljah Zupreme
Krondal's Zira
Krondal's Zarah
Krondal's Zhakira
Krondal's Zoya
Krondal's Zamba
I apologize for only having 2 new pictures in this news update! But it's kind of difficult to get pictures taken of the pups seperately as I
can't hold the puppy and take the picture at the same time….:o/ However, I'll try to get someone to help me as soon as possible and will off
course put the pictures up here as soon as I have them, but for now these 2 will have to do… They all have opened their eyes now and have
certainly realized that there is a world outside of the maternity box…;o)
26.07.2006
Finally – some more pictures of the puppies!! Here they all are, one at the time…. Pictures were taken July 22, they were 6 days old
at the time.
So far names have been chosen for 3 of the girls and they will be called Zelma, Zavannah and Ziljah Zupreme. The little boy will be
called Zhivago. But off course it is still too early for the new owners to pick out their puppy, so the girls will be called by numbers
for the time being…;o) Still waiting for their eyes to open, but it should happen within the next day or two…
(mouseover for name!)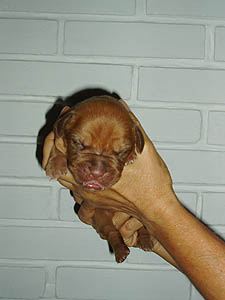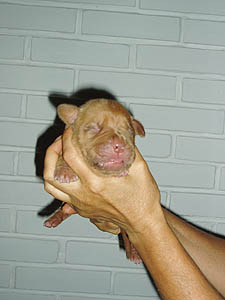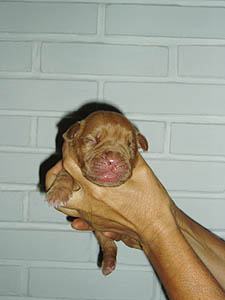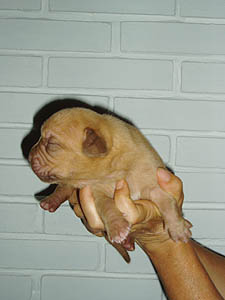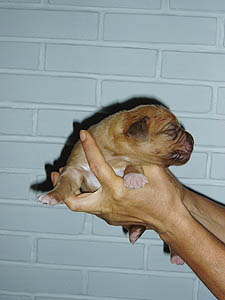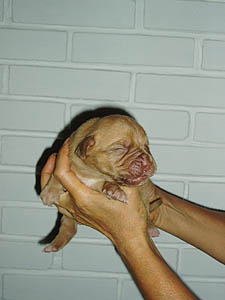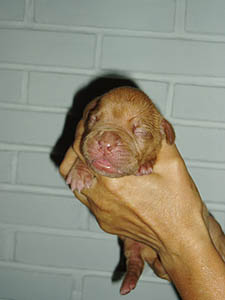 18.07.2006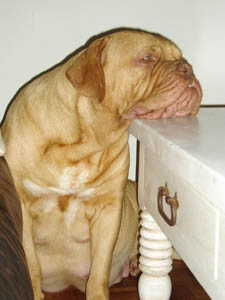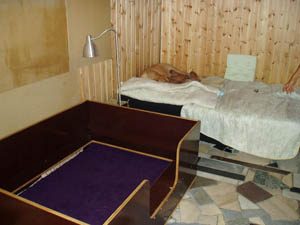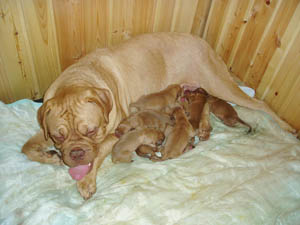 The puppies have arrived on the night between the 15th and the 16th of July – and quite a lot of them too!! I was expecting a medium
size litter so when Medusa started pushing for the 11TH TIME I thought to myself – you got to be kidding! But….she wasn't! She gave
birth to 11 puppies – 2 of them were dead when she delivered them and even though we did all that we could (rubbing them hard,
mouth-to-mouth and heart-massage) there was no respond, but the 9 remaining pups are doing just fine! ;o) ;o) The split is quite uneven
– 8 big girls and only 1 little boy – and he actually is the smallest one of them all, so I guess so far he is not taking after his
father…;o) The pups all look very nice – colourwise 3 of the girls are very dark and the rest of them are also very nice in colour,
none of the them are as light as Medusa.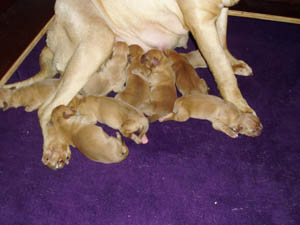 Medusa is doing a great job as a mom! She has very good instincts and it looks like she's done this a million times before, so I'm very
pleased about that. The birth itself went very well, no drama or complications, she was blocking up for more than 24 hours but the birth
itself only took 4 hours from the first to the last puppy, and she delivered the first 8 within only 2 hours – I guess she really just
wanted it overwith once she got started!! ;o) However, the new maternity-box was not quite in her taste – so she decided to deliver the
puppies on the bed next to the box, which we didn't object to, as there was no reason to stress her. Off course, afterwards we moved the
whole family to the box and she accepted this immediately without any argument, she hasn't tried to move any of the pups back to the bed…
I almost couldn't get any food in Medusa for the last 2 weeks of her pregnancy no matter what delicacies I tried to offer her – no wonder,
as the puppies were using all her space! So there is not much left of her now, but hopefully I can get some food in her now, as there sure
is PLENTY of room for it!
As for their names I have decided to use the alphabet – backwards. So this litter will be a Z-litter. I haven't decided on all the names
yet (never thought I had to come up with 8 female names!), but it will off course be posted on the site as soon as I do.
12.07.2006




Only one more week to go! According to plans Medusa is to give birth in a week (July 18) but it is apparently not uncommon that the
puppies will arrive before schedule when it's the female's first litter – so I am awaiting them every day now! The maternity box is
in it's place and all the necessary equipment have been bought, now the rest is up to Medusa…
06.07.2006
Guestbook added – feel free to leave a message if you like ;o)
04.07.2006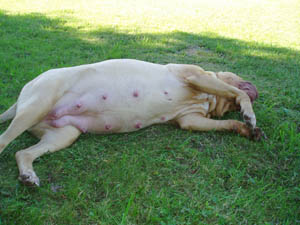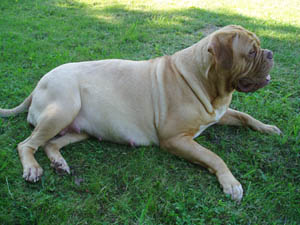 New pictures of Medusa! These are from July 2nd with approximately 16 days to go. My mother's experienced eye says that there is 4-6
puppies – the stomach should be filled out further backwards now if it was a huge litter. Since it is her first litter, I wouldn't
hope for her that she has a huge litter, so I'm crossing my fingers that my mother's judgement proves to be right, that would be just
perfect…;o)
26.06.2006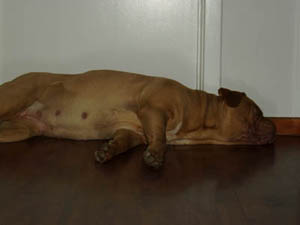 No doubt now that Medusa is pregnant! The picture is from June 18th with still a whole month to go before the puppies will arrive,
and judging by the size of her stomach at this early point it looks like more than just one or two, but only time will tell… As
there is no doubt she is pregnant now, I feel no need of putting her through an unnecessary stressful scan, so the number of puppies
won't be revealed until they arrive…;o) I am expecting her to give birth around July 18-20 which means the puppies will be ready
to go to their new homes around September 12-14.
So, as I am now positive there will be puppies, I have equiped my good friend Morten, who is a carpenter, with a sketch of a
maternity-box (:fødekasse) and I am very excited to see the finished result!
Check in for more updates and pictures of the mum-to-be during the next weeks!
30.05.2006
Medusa is now bred to Ti Amo de Dame Midnight (Meeko)! ;o) We succeeded in breeding/inseminating them 3 times, of which one of
them in particular looked really good, so I am crossing my fingers now that a bunch of wonderful puppies will arrive here in a
couple of months… ;o)
Brand new pictures of Medusa have been added to her gallery – go to the Our Dogs section if you want to see the latest shots… ;o)
06.05.2006
Medusa is in heat!! The big day has come and hopefully the first Dogue de Bordeaux litter in Kennel Krondal's will be born mid
July 2006. I am looking so much forward to this and can hardly wait! Medusa went into heat on May 2nd and she and I will pay a
visit to Meeko this Friday to see what he thinks about her, it will be her 11th day in heat so probably it's too early but
better safe than sorry! ;o) As soon as she is bred I will off course announce it right here in the news-section, so check in
for more news in a week or two..;o)
18.03.2006
English part on Sub Aortic Stenosis (SAS) added – go to the Health Issues menu.
15.03.2006
Planned Litters updated with pedigree and pictures
05.03.2006
The new Dogue de Bordeaux section of Kennel Krondal's is now available. Not all sections are finished at this time, but please
check back for updates in the future!